Intel kicks Kaby Lake into high gear with more than 40 chips and Optane support
Support for high-speed Optane memory could be Intel's edge over AMD's impressive Ryzen chips.
Even that summary doesn't tell the whole story, of course. If AMD's Ryzen delivers on its promises, Intel may have to adjust its premium pricing downward. Intel's 4.2GHz quad-core i7-7700K 91W desktop chip is priced at $339, but it's the i7-7920HQ 45W H-series chip for notebooks that commands the premium $568. The probable reason: AMD won't deliver its Raven Ridge notebook chips based on Ryzen until the second half of 2017. In the continued absence of true competition, Intel is free to price its processors as it wishes.
Here's Intel's own summary of what it's announcing:
Note that Intel is breaking out its single- (SCT) dual- (DCT) and quad- (QCT) core turbo boosted speeds. Because the majority of legacy PC games run on a single core, the single-core boost score is the most significant. But the other numbers also show how better-coded, multithreaded games will run in an overclocked state. Note, too, that Intel is playing it a little cagey with its S-series chips—thus the lack of detail in the boost speeds. That's the Ryzen effect too, apparently—though Intel executives declined to comment on AMD's chip.
More powerful integrated graphics and overclocking
You may notice one other change from Intel's charts above: Intel's Iris Pro integrated graphics is gone, replaced by a new brand, "Iris Plus." Intel believes Iris Plus will deliver a 65-percent improvement in 3D graphics (measured by the 3DMark Sky Diver benchmark) and a 40-percent improvement in video conversion (in TouchXPRT 2014) over the current HD Graphics integrated cores that make up the bulk of Intel's chips. Basically, think of Iris Plus as the upgrade that will help propel Kaby Lake systems into 1080p gaming at lower quality levels, according to Intel.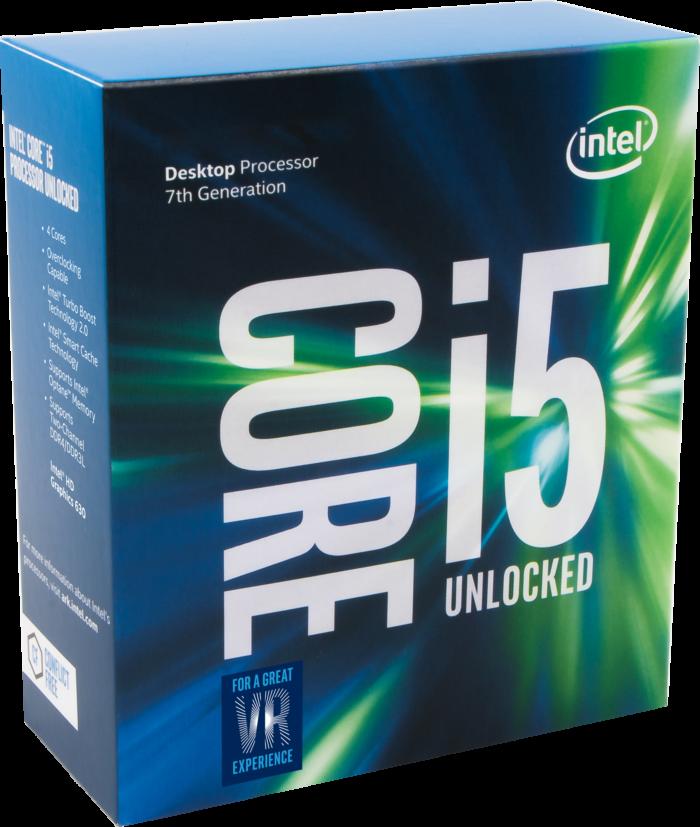 A retail box containing Intel's Core i5 "Kaby Lake" chip.
If Iris Plus isn't enough, Intel's also releasing three unlocked S-series processors: the i7-7700K, the i5-7600K, and the i3-7560K. The trio will have two new ways to be overclocked. The first is the ability to automatically tweak the base ("b") clock as well as the clock multiplier. CPUs run on a base clock (typically 100MHz) as well as a user-adjustable multiplier. The automated Intel tool now allows an overclocker to adjust the base clock as well as the multiplier. That additional level of fine-grained control should assist in stable overclocking, Intel says. The second way, known as "AVX offset ratio," actually dials down the clock speed when a computationally complex AVX instruction is executed, so the otherwise overclocked processor doesn't overheat.
Previous Page 1 2 3 4 Next Page