Intel kicks Kaby Lake into high gear with more than 40 chips and Optane support
Support for high-speed Optane memory could be Intel's edge over AMD's impressive Ryzen chips.
Looking ahead to Optane
It isn't quite true to say that Kaby Lake was built explicitly for Optane, though this will be the first Intel architecture that supports the revolutionary new storage technology.
Optane (Intel's brand name for its 3D XPoint technology, co-developed with Micron) is essentially a replacement for an SSD, though an Optane module will first be slotted into a traditional DRAM slot. Intel's shown how Optane can blow away traditional NAND flash memory, and leaked slides hint that Intel has Optane-based SSDs in the works, too. There are serious questions, however, about how Micron and Intel will market and ship Optane to PC makers, who practically demand multiple sources of products for the sake of competition. It's also not clear what the price of Optane memory will be.
The only solid piece of info we have is that all of the new Intel 200-series chipsets will be Optane-ready, Intel executives said. They also said they expect to ship Optane in the first half of the year, and board builders and system builders will be able to plan ahead for the new memory technology. The bottom line, however, is that you won't be able to buy Optane modules right when quad-core Kaby Lake systems launch.
Here are what the desktop versions look like, as described by Intel. Note the increased number of PCI Express lanes compared to the Skylake generation.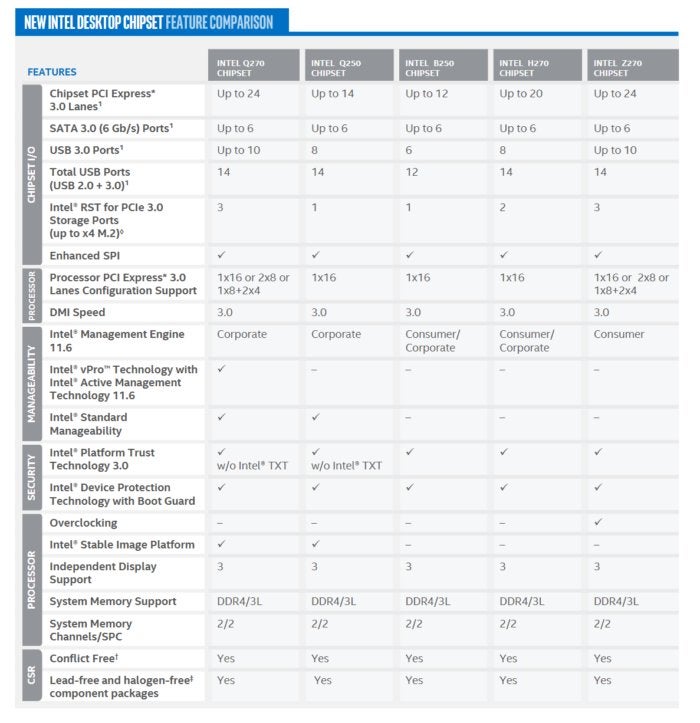 Additional technologies: Intel Authenticate and video
Remember Intel Authenticate? Intel began showing off the multi-factor authentication last January, combining PINs with biometric authentication and even the presence of an authenticated Bluetooth phone. (Here's our hands-on with the Intel Authenticate technology.) Now, Intel says, Intel Authenticate is ready to go mainstream, at least on business PCs.
A more important feature for consumers is Kaby Lake's integrated video engine, which the company discussed in more detail at its August launch. Supporting the more popular 4K codecs within a dedicated video block within Kaby Lake will help minimize the load on the CPU. Intel hopes the rise of 4K video will be met by content creators and resellers like Netflix, as well as 4K services like Sony Pictures' ULTRA, FandangoNow, and iQIYI, all expected to launch in 2017, Intel executives said.
Next up: Extreme Edition chips, and...?
With all the Kaby Lake news, we still haven't heard anything about Intel's Extreme Edition chips for the creme-de-la-creme of the overclocking world. Those usually arrive in the fall.
In the meantime, one big question remains: How much will AMD's Ryzen affect the competitive landscape, and how much will Intel alter its pricing scheme as a result? It appears Ryzen will have some impact, but Intel also seems prepared to shift the discussion to Optane.
Previous Page 1 2 3 4 Next Page