Intel may use AMD GPUs to challenge Nvidia's rising power
Intel needs graphics power. AMD needs cash. Both need to fight Nvidia.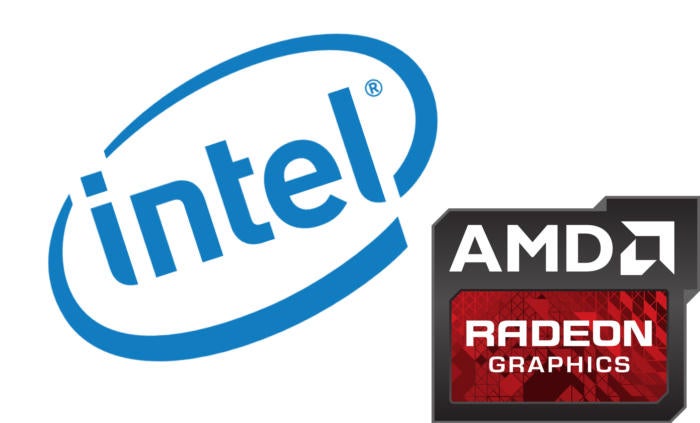 AMD already owns the graphics in consoles, and the next place it could plant its flag could be the last anyone expected: Intel.
While rumors of a possible deal have circulated all year, something firmer arose Monday night when Kyle Bennett, longtime editor of enthusiast hardware site HardOCP.com, posted that the ink on the deal was already dry. "The licensing deal between AMD and Intel is signed and done for putting AMD GPU tech into Intel's iGPU," Bennett wrote on his site's forum.
Officials PCWorld contacted at both companies declined to comment, but reached Wednesday morning, Bennett stood by his comments and added a little more detail.
"To my understanding, Intel has a team of about ~1,000 engineers working on their forward-looking iGPU technology," Bennett told PCWorld. "Basically, that work will be scrapped and that team and their work will be replaced with AMD teams and technology going forward. There are also Apple implications here as well, and this deal is good for Apple assuredly."
As bizarre as such a partnership may sound to outsiders, the timing actually makes it more likely. Kevin Krewell, an analyst with Tirias Research, laid out two possible scenarios in a column at Forbes.com that was published Tuesday evening.
First, Intel needs patent protection. Nvidia and Intel began suing each other in 2009 over Nvidia's nForce chipsets for Intel CPUs. The suits were eventually settled in 2011: Nvidia agreed not to build chipsets for Intel's Core i7 CPUs, and Intel was free to build graphics cores without getting sued by Nvidia.
The price of Intel's freedom was high, though: The chip giant agreed to pay Nvidia licensing fees over the next six years totalling $1.5 billion.
After writing the last $200 million check in January 2016, the licensing deal is winding down, which means Intel has to go shopping for patent protection for its graphics cores. As AMD and Nvidia essentially own the lion's share of graphics patents in the world, developing graphics cores is nigh impossible without licensing deals.
Krewell said Intel could just ink a deal and be done with it. The second scenario, however, is far more intriguing, if, as Bennett says, Intel uses Radeon graphics inside of Intel CPUs.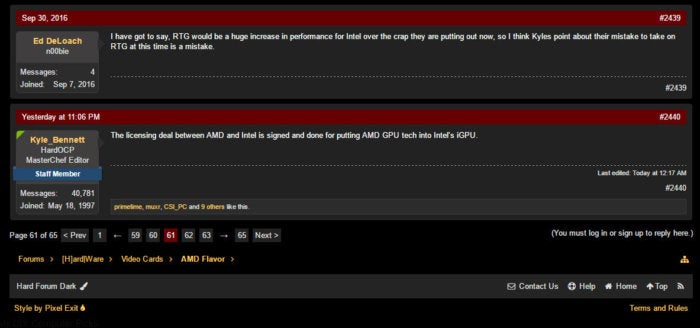 This forum post points to a likely licensing deal between AMD and Intel.
Krewell said the deal would give AMD some much-needed funding. "AMD still has some significant financial headwinds with its debt load and needs cash to fund more R&D," Krewell said to PCWorld late Tuesday. "The way I'd rationalize AMD's licensing of Radeon GPU tech to Intel is that Radeon would become the dominant graphics architecture of the PC market and outflank Nvidia in graphics. If Intel then used Radeon GPUs for GPU computing, it would help push back on Nvidia and CUDA."