Jaw-droppingly gorgeous HDR explodes onto PC monitors at CES 2017
After years of groundwork, HDR display tech finally arrives on your desktop.
But there's a catch: Right now, only the proprietary Dolby Vision supports dynamic HDR, though the industry is working toward integrating it into the HDR-10 open standard, as well. The HDMI Forum plans to release the final HDMI 2.1 specification in the second quarter. (DisplayPort 1.4 already supports dynamic HDR metadata.)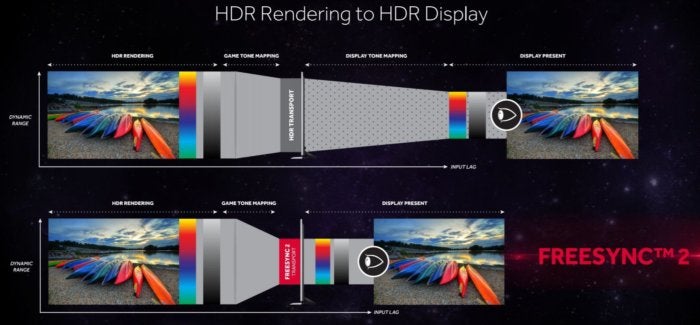 Traditional HDR tone mapping versus how AMD's FreeSync 2 handles tone mapping.
AMD's FreeSync 2 likewise aims to make vivid HDR displays even more luscious (among many other nifty tricks). A cousin to AMD's successful FreeSync stutter-killing technology for monitors, FreeSync 2 informs your graphics card about your display's capabilities, letting your PC pump out a single round of HDR tone mapping, rather than separate passes for the game and display. That optimizes the image and reduces lag.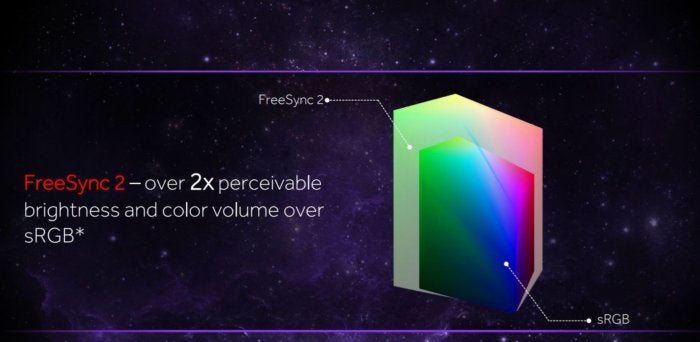 FreeSync 2 also imposes mandatory dynamic color and brightness ranges to ensure you're getting appropriate bang for your buck (though, as with any display technology, how good images look onscreen depends in part on how well the content is tuned for HDR).
AMD's working with multiple display vendors on multiple projects, and hopes to launch FreeSync 2 in the first half of the year.
HDR PC monitors
With all the groundwork set, the launch of actual HDR-compatible PC monitors feels almost anticlimactic—though no less welcome.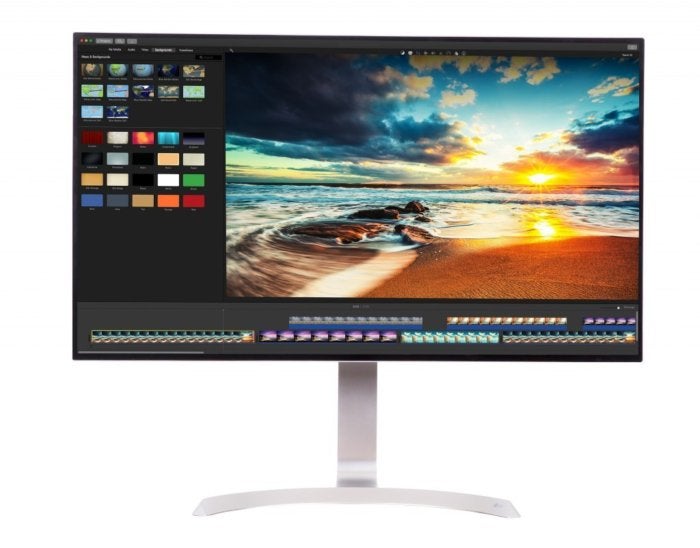 LG's 32UD99 HDR monitor.
LG struck first, teasing the 32-inch, 4K-resolution LG 32UD99 even before the holidays rolled around. Beyond all those pixels and the HDR support, the monitor also packs a USB-C connection capable of simultaneously delivering 4K images, charging a connected laptop, and transfering data over a single cable.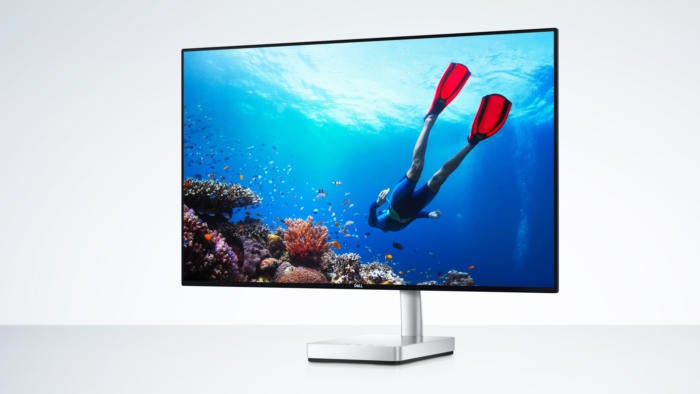 Dell's S2718D HDR monitor.
Dell's 27-inch S2718D Ultrathin Monitor, meanwhile, takes its inspiration from the Dell XPS 13 laptop's superb display: It's got a barely there InfinityEdge bezel, and a profile so thin, it borderline boggles the mind. The 2560x1440-resolution display checks pretty much every box an image geek could ask for, with 178-degree viewing angles, 400 nits brightness, 99-percent sRGB color gamut, a 1000:1 contrast ratio, and a USB-C connection of its own.
While Dell's touting the S2718D as an HDR monitor, Tom's Hardware reports that "the standard [Dell] uses is different from what TV makers are using," a detail corroborated by Engadget. Whatever that means, it's clear that this will be a vibrant, highly accurate display. Dell says the S2718D will go on sale on Dell.com on March 23 for a cool $700.