MX Master review: Logitech's mouse is smooth, sturdy, and versatile
Five customizable buttons and two scrollwheels make this mouse very handy.
My favorite mouse is Logitech's Performance Mouse MX ($100 MSRP; $59 on Amazon). I've been using it for years, and it's still going strong. Logitech has another mouse that just as good: the MX Master ($100 MSRP; $70 on Amazon). The MX Master is a lot like the Performance Mouse MX, but it has features that make it stand out.
Buttons
The MX Master is a mouse with five buttons for righties. There are the left and right buttons, as usual. Along the left side of the mouse are back and forward buttons that are set by default to be used as the back and forward functions in your browser. The fifth button is located on the thumb cradle, and by default, it's set as a "gesture button" where you hold the button down and then move the mouse up, down, left, or right to perform the same three-finger gestures you can perform on Apple's Multi-Touch touchpad. All the button functions can be customized from their defaults using the Logitech Options software, which is accessible through System Preferences after installation.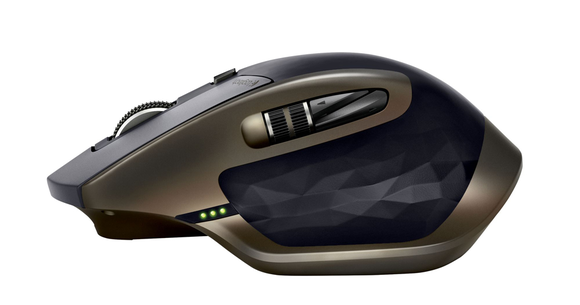 You'll also find not one but two scroll wheels. The main scroll wheel between the left and right buttons scrolls windows vertically and also has button functionality that can be customized. The scroll wheels on the side scrolls windows horizontally, and in Safari, can also be used to go back or forward a web page. If you want to change the side scroll wheel's function, to say, control the volume, you can do so in the software.
I never use the back and forward buttons on the MX Master or on the Performance MX; I actually find the placement of these buttons on the MX Master awkward for me to use. I've embraced the side scroll wheel, though; I use it to zoom in and out of the screen when I encounter type that's a bit small for my aging eyes, or I'm editing an image.
Track and feel
Like the Performance MX, the MX Master uses Logitech's Darkfield Laser Tracking, and I never had any tracking issues while testing on different surfaces, including glass tabletops. The mouse moves very smoothly and effortlessly.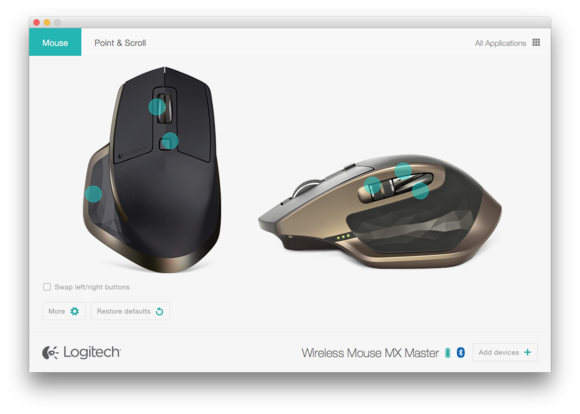 The Logitech software to customize the buttons is accessible in system preferences.
Both mice look very similar, but I felt like the MX Master had a body that's a bit straighter than the Performance MX. The Performance MX's curve felt more natural in my hand, but the Master MX felt good and comfortable and never triggered any pain in my wrist or hand. (I don't suffer from repetitive strain injury, for what it's worth.) Of course, how a mouse fits is a completely subjective thing and varies from person to person, so if you can spend a few minutes with a mouse before buying, it's a good idea.