Nvidia's monstrous new Titan X graphics card stomps onto the scene, powered by Pascal
Meet the new Pascal-based Titan X, which is nothing like the old Titan X.
Today, a new Titan enters the next-gen graphics war. But while Nvidia's new Titan X Pascal is no doubt the most potent gaming hardware ever released—the Titan X page on GeForce.com is plastered with lofty gaming performance claims—you won't find too many reviews of the graphics card hitting the streets today. Instead, Nvidia's focusing more on the graphics card's use for professional deep-learning AI applications.
The Titan series has always been designed to bridge the gap between the consumer-centric GeForce lineup and pricier Quadro professional cards. The new Titan X Pascal, which gets its name from Nvidia's cutting-edge 16nm Pascal graphics architecture, delivers 11 teraflops for single-precision floating-point performance. But Nvidia's decision to surprise launch this card during an AI meetup in San Francisco, combined with its touted 44 TOPS INT8 performance—a new deep learning inferencing instruction—shows that the company expects the new Titan X to be used to bolster neural networks and machine learning.
Make no mistake: Nvidia is pushing this new Titan as a compute card first and foremost. But most people reading PCWorld aren't data scientists. Most people want to know how much ass the Titan X Pascal kicks in games.
Titan X specs and gaming performance
Sadly, Nvidia didn't send us a review unit. But we actually just received a Titan X-based system from Falcon Northwest and hope to post a review of that, including high-end gaming results, soon.
UPDATE: Gordon Mah Ung burned the midnight oil to deliver 4K and 5K gaming performance results, which you'll find in our decadent Titan X performance preview. Here's a sneak peek comparing a system with two new-look Titan Xs against another with a pair of liquid-cooled GTX 1080s: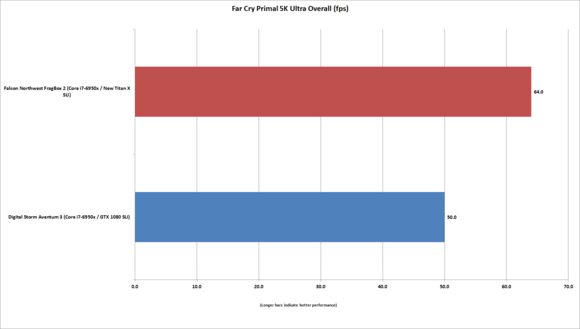 Far Cry Primal run at 5K resolution
Be sure to read that article! But in this one, let's talk specs. The new Titan X Pascal packs in a lot more hardware than its predecessor, as you can see in the comparison chart below.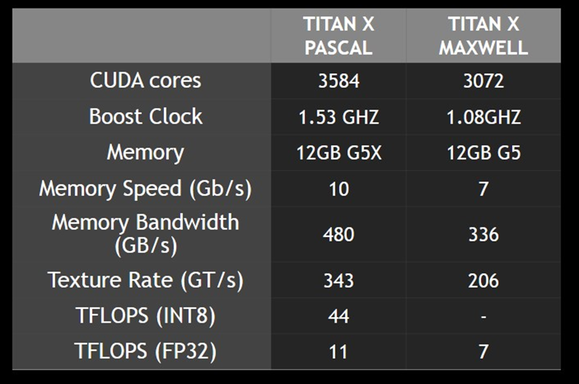 The Titan X Pascal packs in 3,584 CUDA cores with a 1,417MHz base and 1,531 boost clock. That's a face-melting half a gigahertz faster than the older Maxwell GPU-based Titan X, roughly speaking, and more than 1,000 CUDA cores greater than the ferocious new GeForce GTX 1080, which also uses Nvidia's Pascal architecture.
The new Titan X is no slouch in the memory department either, with 12GB of next-gen GDDR5X memory clocked at 10Gbps. It's connected to the GPU over a 384-bit bus, delivering a blistering 480GBps memory bandwidth aided by the new delta color compression system created for Pascal. You read that correctly; it doesn't have the super-fast high-bandwidth memory first featured in AMD's Fury cards. Some people expected the new Titan X to come equipped with it after HBM2 made its debut in Nvidia's powerful P100 supercomputing card. But first-gen HBM is limited to 4GB, and second-gen HBM with higher capacities isn't expected to be ready until sometime around the end of the year. Fear not, though: 12GB of newer, faster GDDR5X memory definitely won't be a gaming bottleneck any time soon.