Official Intel 7th-gen Kaby Lake Review: One big change makes up for smaller ones
Don't dismiss Intel's newest CPU with a meh just yet. There's more to the chip than you expect.
This isn't Intel's first "budget" overclocking chips though. The company introduced the dual-core Pentium G3258 Anniversary Edition in 2014 and as early as 2010, Intel sold the dual-core Core i5-655K.
The Z270 is the first "Optane-ready" chipset from Intel. We just don't know what exactly that means just yet.
The new Z270 is "Optane Ready"
With Kaby Lake for desktops, Intel is introducing new 200-series chipsets to replace the 100-series chipsets that was introduced with Skylake. Like Kaby Lake, it is an incremental update that disappoints a bit.
We expected the 200-series chipsets to feature native support for USB 3.1 10Gbps or maybe even Thunderbolt 3, but no. Instead, motherboard makers will have to add additional chips for those functions.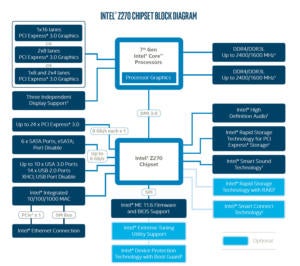 The Z170 chipset was a big step forward for mainstream motherboard chipsets and Z270 inches it a little bit father forward.
From what I can tell, there are three key changes to Z270. The first is an upgrade from the 20 lanes of PCIe Gen 3 in the Z170 to 24 lanes in the new performance Z270 chipset. The move will let motherboard makers integrate high-bandwidth connections such as M.2 or U.2 without having to share bandwidth between devices. Intel says it has also improved overclocking capability.
The last upgrade is official "Optane ready" support. What that means isn't exactly clear, but we do know Intel's Optane (a non-volatile memory that promises much higher performance than SSDs) will go into an M.2 slot on the board, where it can be used as a traditional storage device or as a way to accelerate system performance, much like what's done today with Intel's Smart Response Technology, which uses an SSD to cache performance from a traditional hard drive.
That doesn't mean Optane won't work in other systems using older chipsets, but Intel is likely to support it only for "system acceleration" on Z270 initially.
If none of these sound like much of an upgrade over your existing Z170 motherboard, the good news is you don't have to buy a Z270 motherboard. Kaby Lake drops into most LGA1151 Z170 motherboards and works just fine, as long as you're using an updated BIOS that supports the new CPU.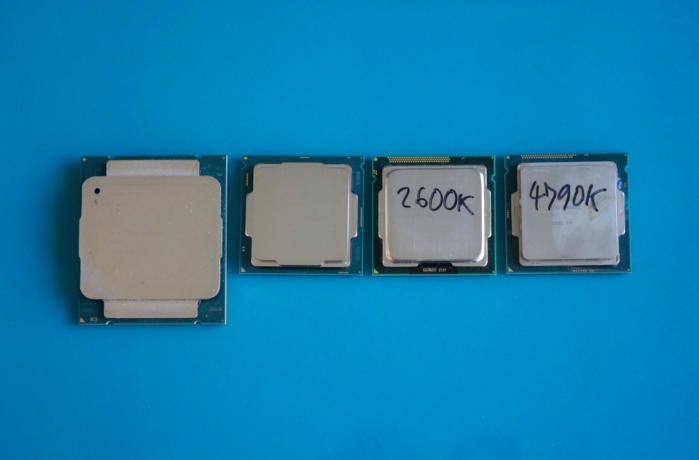 From left to right: An 8-core Core i7-5960X, the new Core i7-7700K, the ancient Core i7-2600K and a Core i7-4790K.
How we tested
For our performance testing, I focused on how Kaby Lake does against the CPU it replaces: I dropped the Core i7-7700K into the same Asus Z170 Deluxe motherboard that the Skylake chip was first tested with. The CPU was cooled with a Corsair H80i closed liquid cooler and outfitted with 16GB of Corsair DDR4/2133 RAM, a reference GeForce GTX 980 card and a 256GB HyperX SSD. The OS was Windows 10 running the TH2 build.
Previous Page 1 2 3 4 5 6 7 8 9 Next Page