Official Intel 7th-gen Kaby Lake Review: One big change makes up for smaller ones
Don't dismiss Intel's newest CPU with a meh just yet. There's more to the chip than you expect.
Cinebench R15 multi-core performance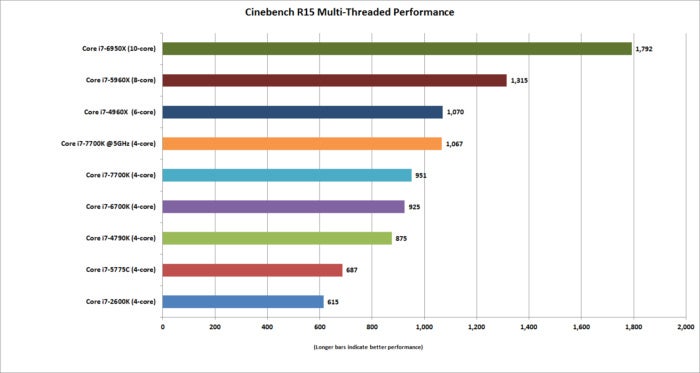 Cinebench R15 puts the new Core i7-7700K at the top of the heap for main stream quad-core chips.
Our first test is Maxon's Cinebench R15. It's a benchmark based on Maxon's professional Cinema4D rendering engine and is a pure CPU test. We recorded scores from many of Intel's high-end quad-core mainstream chips, as well as chips with more cores for context.
Among the quad-cores, the Core i7-7700K the winner by the expected amount. The Kaby Lake CPU is roughly 4 to 5 percent higher in clock speed and roughly 4 to 5 percent faster in Cinebench. When you look back to the Core i7-2600K though, it's a huge 42-percent difference in performance. Stock clock performance between the Kaby Lake, Skylake and Devil's Canyon, though, isn't exactly going to set the world on fire.
Cinebench R15 single-core performance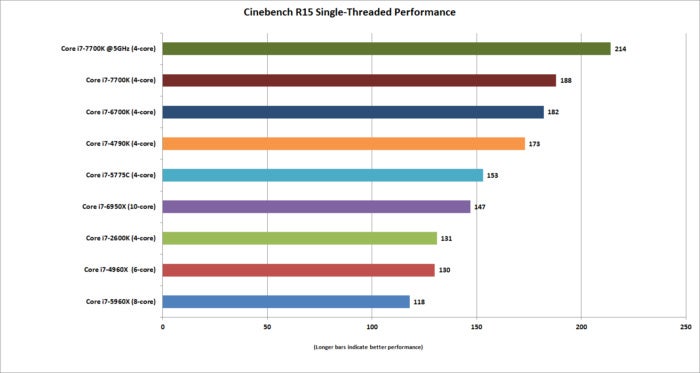 When run in single-threaded mode, Cinebench R15 shows a high clocked, more efficient core is the way to go.
One error with focusing exclusively on multi-core performance is reality doesn't match that. The vast majority of applications are lucky to exploit more than a single thread, instead favoring higher clock speeds and more efficient CPU cores. Once we set Cinebench R15 to run in single-threaded mode, the quad-cores with their higher clock speeds jump to the front of the line, with the Core i7-7700K now leading the pack. For most people, who don't do 3D rendering or other heavily multi-threaded tasks, a quad-core with higher clock speeds is the right choice.
Other highlights from the results: There isn't a lot daylight between the Core i7-7700K and the Core i7-6700K. Note, too, that our 10-core Broadwell-E Core i7-6950X was performed without Turbo Boost Max. Turbo Boost Max lets the CPU greatly increase the clock speed on a single core, bringing performance a lot closer to the quad-cores.
POV Ray performance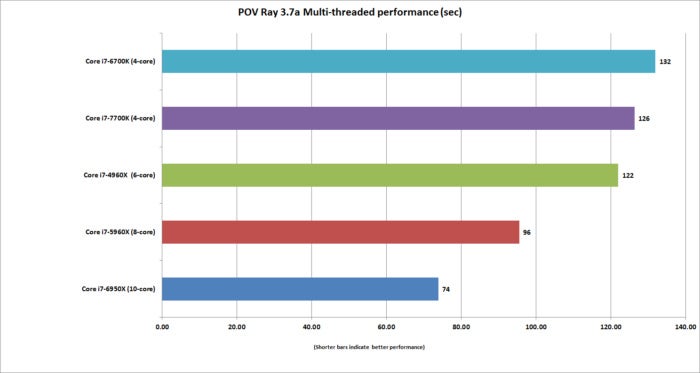 POV Ray mostly matches our results form Cinebench R15. The Kaby Lake chip wins eases out in front of the Skyale chip but it's not a game changer.
Another CPU-heavy test we use is POV Ray. It's a ray-tracing program that traces its roots back to the Amiga. Our benchmark set is a little smaller but no surprise, the Kaby Lake, with its 4- to 5-percent clock speed advantage, finishes the test about 4 to 5 percent faster, putting the Core i7-7700K just barely behind a six-core Ivy Bridge-E Core i7-4960X.
Previous Page 1 2 3 4 5 6 7 8 9 Next Page