Official Intel 7th-gen Kaby Lake Review: One big change makes up for smaller ones
Don't dismiss Intel's newest CPU with a meh just yet. There's more to the chip than you expect.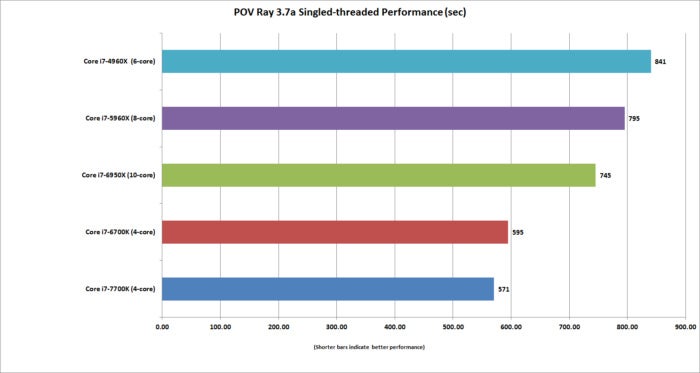 Just like with Cinebench, when you run on a single core, the higher frequency chips win.
As with Cinebench R15, we also run the test using a single-threaded workload. With lighter loads the CPUs can run at higher clock speeds and no surprise, the pair of quad-cores take the lead. Again, we saw maybe a 5 percent advantage for the Core i7-7700K over the Core i7-6700K.
Blender performance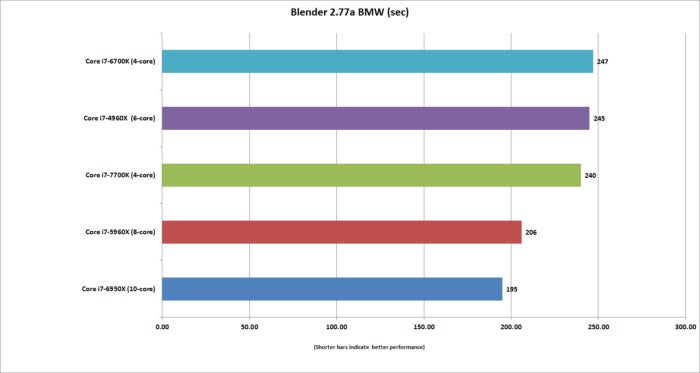 Blender 2.77a is a free render application popular with indie film makers.
Our final rendering test uses Blender 2.77a and Mike Pan's BMW workfile to measure how fast the various CPUs can render a single frame using the free and popular Blender app. The Core i7-7700K again pulls ahead of the Core i7-6700K by a small percentage,well within what we expected for its clock speed advantage. And yes, that six-core Ivy Bridge-E Core i7-4960X is really starting to look moldy here. One thing I'd like to point out about Blender is it doesn't show the scaling with thread count as much as Cinebench R15. While the 10-core Core i7-6950X is the winner here, it's not as impressive as I would have expected for a $1,723 CPU.
HandBrake 10.2 performance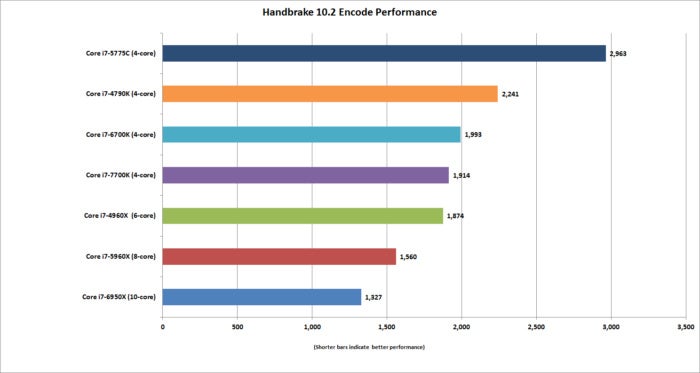 HandBrake 10.2 likes threads
Turning to video encoding, we used the popular and free HandBrake 10.2 encode to convert a 30GB MKV file using the Android tablet preset. The Core i7-7700K again comes in slightly ahead of the Core i7-6700K. There's also a pretty healthy distance between the Kaby Lake chip and the still-excellent Devil's Canyon chip. The older Ivy Bridge-E Core i7-4960X disappoints yet again, especially consider that it has six cores yet is basically tied with the quad-core Kaby Lake chip.
WinRAR Performance
You should have the idea by now that the 4- to 5-percent clock increase from Skylake to Kaby Lake pretty much yields a 4- to 5-percent increase in performance across the board, so our last CPU-only test is WinRAR. Unlike the other tests, where we ran the exact same app our machines, these results include both 5.21 and 5.31 results (for the Core i7-5775C and Core i7-4790K.) The only different between 5.21 and 5.31 appears to be bug fixes that don't impact the built-in benchmark. Unlike Cinebench, POV Ray or Blender, WinRAR is a little more sensitive to memory bandwidth.
Previous Page 1 2 3 4 5 6 7 8 9 Next Page