Official Intel 7th-gen Kaby Lake Review: One big change makes up for smaller ones
Don't dismiss Intel's newest CPU with a meh just yet. There's more to the chip than you expect.
Both the Skylake and Kaby Lake CPUs are pretty much dead even here. We also see the Devil's Canyon chip is more than 15 percent slower than the two 'Lake chips. The surprise, for the quad core CPUs, is the Core i7-5775C Broadwell CPU. Despite its lower clock speed of 3.3GHz to 3.7GHz, it's leading the pack of quad-core chips.
That isn't some magic of the Broadwell micro-architecture though. It's likely due to the large amount of embedded DRAM cache Intel put into the CPU. Read about this chip here.
3DMark performance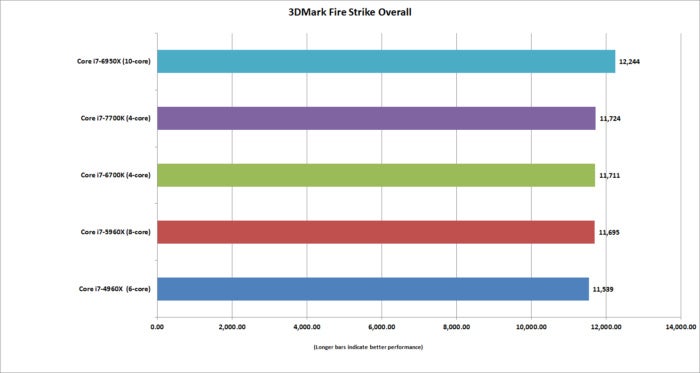 The CPU still plays very little role in most graphics chores. Duh.
Gaming in this day and age is still 90 percent about the GPU, which is why I ran 3DMark Fire Strike. All of the machines used reference GeForce GTX 980 cards and the same driver. As you can see, it's mostly a tie. The 10-core Broadwell-E gets a small advantage because 3DMark factors the physics performance into the overall score, but this is mostly a tie.
When it comes to physics, there is an advantage but most gaming is still primarily a graphics task.
Because this is a CPU review, I also decided to break out the physics performance, which favors core count over clock speed. No surprise, the 10-core comes out on top. If you're looking at these two charts and trying to decide how they should influence your buying or building decision I'd say the graphics score is far more important so long as you have a decently powered quad-core chip.
Tomb Raider performance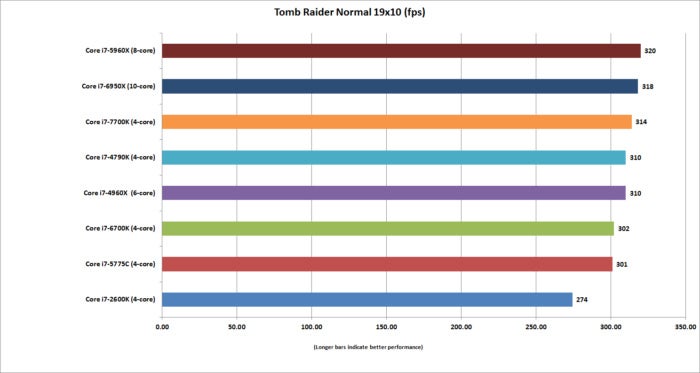 In an actual game, most of your dividends still come from the graphics chip once you have a decently powered quad-core chip.
I also fired up the slightly older Tomb Raid and ran the built-in benchmark at 1080p resolution at the "normal" quality setting. I chose normal rather than Ultra to try to make this more about the CPU than the GPU.
The Core i7-7700K again leads the pack for quad-cores but it's really no big deal. Again, yawn.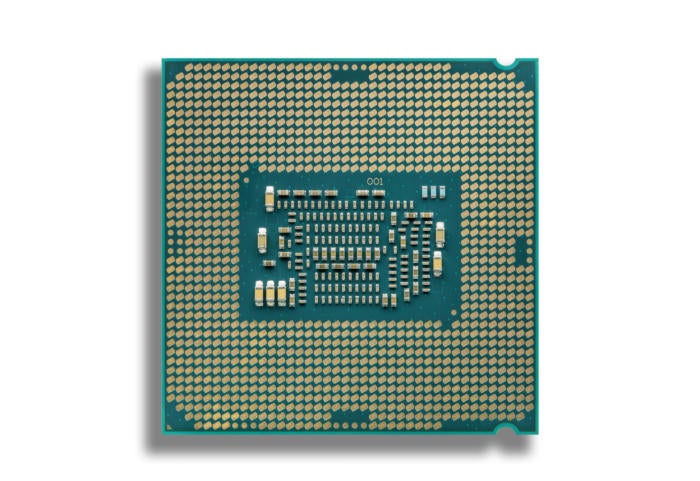 The back of a Kaby Lake CPU.
The IPCs have it
CPU nerds like to talk about IPC, or instructions per cycle of a CPU. It's one way to gauge efficiency at a given clock speed. I took the performance of each CPU running the CineBench R15 test in single-threaded mode with Turbo Boost switched off on all of the CPUs. As I said with the Skylake Core i7-6700K review, it's a pretty sobering wakeup call to see just how slowly IPC is inching along in modern CPUs.
Previous Page 1 2 3 4 5 6 7 8 9 Next Page