Official Intel 7th-gen Kaby Lake Review: One big change makes up for smaller ones
Don't dismiss Intel's newest CPU with a meh just yet. There's more to the chip than you expect.
With its massaged 14nm process, Kaby Lake finally seems to break that magical barrier. To prove it, I had Digital Storm and Falcon Northwest send two production PCs that could break the 4.5GHz barrier. Both did. The Digital Storm system, for example, was able to withstand almost four hours of continuous Handbrake encodes with all cores locked at 5GHz without issue. The Falcon Northwest machine could hit 5GHz in a small-form-factor box.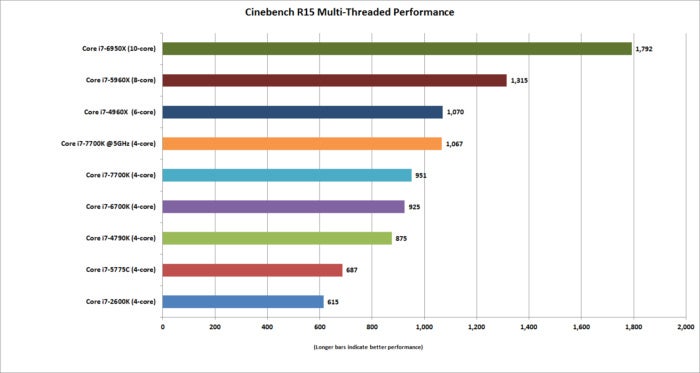 Here's what you should expect from a Kaby Lake running at 5GHz.
Running at 5GHz, the Kaby Lake will match a six-core Ivy Bridge-E in performance. In single-threaded applications at 5GHz, the results are even more impressive.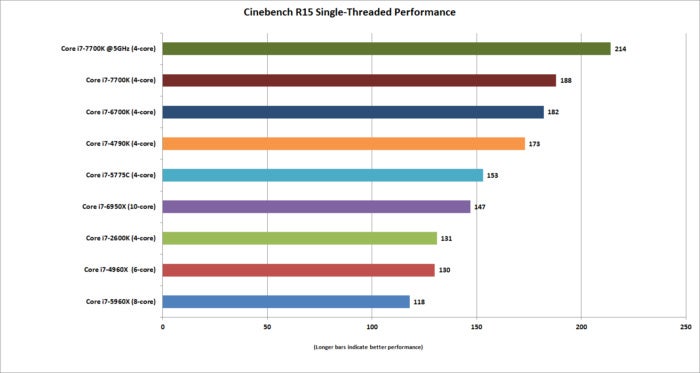 A Kaby Lake running at 5GHz in single-threaded tasks will be tough to beat.
Does this mean your chip will hit 5GHz? No. Remember, it's always been a lottery system with overclocking results, but the word from experienced boutique PC builders and Asus is far more promising than it's been in a long time.
As much as everyone wants to be a hater, it's looking very much like Kaby Lake, for those who want to go there, can break 4.5GHz at last.
Umm, how much again?
So we have an official, sanctioned view of just how a desktop Kaby Lake performs. Now, what everyone wants to know is how much. There is, again, more disappointment.
The initial prices the press was given for Kaby Lake CPUs would have made the Core i7-7700K, at $305, the cheapest Core i7 "K" CPU the company has ever produced. It was low enough that I mapped out the price of the chip in a chart and was prepared to write that the CPU price war had already begun with AMD over its upcoming Ryzen.
The initial price of the Core i7-7700K we were given would have been the cheapest Core i7 "K" CPU in history. Unfortunately, that turned out to be wrong.
Alas, it was all wrong. Intel updated its price sheets, increasing the price to $339. That's the same price as the Haswell, Devil's Canyon and Skylake Core i7 chips launched at.
In defense of Intel, every new chip in the price list went up by $34 to $63. Even laptop CPUs, where Intel essentially has no competition from AMD today, increased. So maybe this was truly just an across-the-Excel formula error and not a reason that's spelled Ryzen. Clearly, though, the price war with AMD isn't kicking off with Kaby Lake.
Conclusion
Previous Page 1 2 3 4 5 6 7 8 9 Next Page