Samsung NX300 review: Shoot like a pro, share like a teenager
It has interchangeable lenses and in-camera retouching, plus built-in Wi-Fi for easy Instagramming.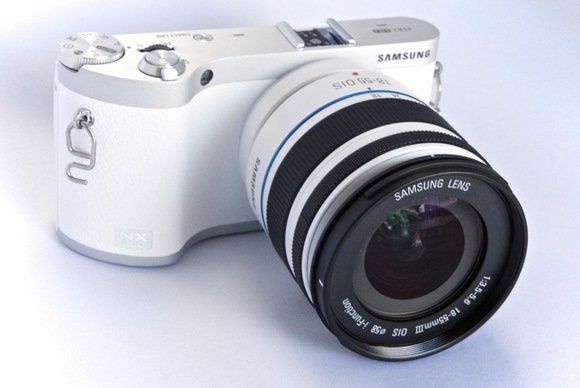 Enthusiast photographers may think of Samsung as more of an electronics company than a maker of fine cameras. The company's new NX300 may be the product that changes their view.
At the heart of its imaging system is a 20.3-megapixel CMOS APS-C sensor. The hybrid autofocusing system uses both contrast and phase detection systems to ensure snappy performance. And the camera's burst mode can record a respectable 8.6 frames per second.
Built-in Wi-Fi makes connecting the NX300 to your iOS or Android smartphone easy. File transfers can also travel via NFC or, if you must, via USB using the supplied cable.
Still, there are a couple hitches that may be significant, depending on how you shoot. First, you have to compose your images on a beautiful 3.31-inch AMOLED tilting LCD—since there's no way to add an electronic or optical viewfinder—and doing so can be tough in direct sunlight.
Second, if you plan on using the NX300 for long shooting sessions, you may not be crazy about the in-camera battery charging. If you want an external battery charger, you'll have to purchase one separately.
Handling and design
The NX300 is available in three different color schemes: all white, silver and black, and leather brown and silver. The aluminum top plate provides a durable, attractive finishing touch.
Controls are well positioned, with the exposure mode dial on top at the wide end of the camera along with the shutter button, Wi-Fi direct link button, and control dial. Eleven more buttons grace the back, including one for dedicated movie recording.
The button I like best isn't on the body of the camera at all. The Fn button on the side of the 18-55mm zoom lens provides quick access to ISO, white balance, and exposure compensation adjustments. Press the button and rotate the manual focus ring to change the setting.
The manual focusing ring is also handy when you want to take over the reins from the autofocus system. Move the switch on the side of the lens barrel from AF to MF, then rotate the focusing ring. The camera presents you with a magnified view on the LCD that makes it easy to get exactly what you want in focus. Tap the shutter button and you return to the normal, nonmagnified view.
Wi-Fi
You know Wi-Fi is important when it earns a spot on the top mode dial. And that's where the Wi-Fi option shows up in the NX300. In the Wi-Fi position, you'll see a handful of wireless options on the camera's LCD, including Mobile Link (file transfer), Remote Viewfinder, Auto Backup, Email, social networks, and cloud storage. Overall, the various functions worked well.