Sapphire Nitro+ RX 480 review: Polaris rethought and refined
The wait was worth it for custom Radeon RX 480 cards.
Flipping on Boost mode also increases the power limit for the card, which is necessary as Polaris' performance ties heavily into the amount of power it's being fed. Don't fret about whether potential power consumption issues will fry your motherboard, though. First off, AMD's already released a driver that fixed the reference RX 480's excessive PCI-E power draw while simultaneously boosting performance.
Second, Sapphire redesigned the power system on the Nitro+ RX 480, swapping out the reference model's 6-pin power connector for a beefier 8-pin and altering the power phase design so that no more than roughly 60 watts courses in via your motherboard's PCI-E slot. The Nitro+ also features a new version of Sapphire's black diamond chokes, which help to filter and clean up the card's electrical signals. Sapphire says the new chokes reduce coil temperatures by an additional 15 percent compared to the ones found in previous Nitro cards.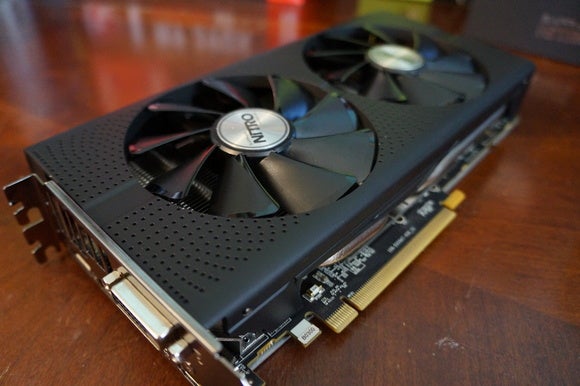 The Nitro+ RX 480 features Sapphire's superb Dual-X cooling solution, with easily removable fans.
Sapphire's supremely powerful, yet whisper-quiet custom coolers never fail to impress when I lay my hands on a Nitro card, and the Nitro+ RX 480 is no exception. The card features Sapphire's Dual-X cooling solution, a pair of fans over a beefy, high-density heat sink riddled with copper heat pipes of various sizes. The Nitro+ RX 480's fans have been upgraded to 95mm, dual ball-bearing models. Sapphire claims the redesign results in a 10-percent noise reduction compared to the previous generation of Dual-X coolers. The fans actually won't spin at all until the GPU temperature hits 52 degrees Celsius, making the card completely silent when you aren't gaming or rendering videos.
It's easier to service and replace the Nitro+ RX 480's fans, too. They're held on by a single screw, and you don't need to rip apart the whole shroud to yank them all. What's more, a new Fan Check function in Sapphire's Trixx 3.0 software monitors your fan for issues and waves when problems come up. And if problems do come up, Trixx will connect you with Sapphire's customer service, which will send you a fan replacement rather than requiring you to send your entire card back for repair. Yay to eliminating life's little hassles!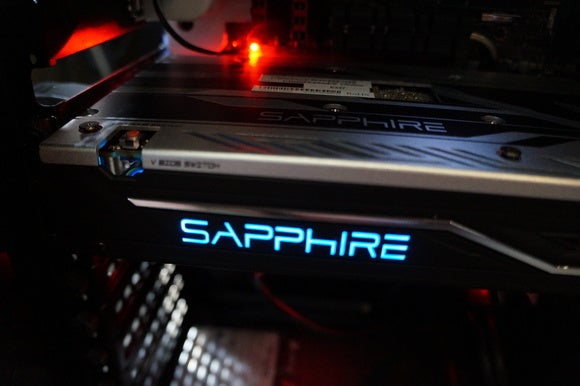 Trixx 3.0 also powers Nitro Glow, Sapphire's branding for the multicolored RGB lights embedded throughout the Nitro+ RX 480. By default, the card glows Sapphire blue, but Trixx 3.0—which will be "available soon," so I didn't have a chance to test it—allows you to set custom colors, tie the hue to various use states, or even shut it off completely.
Previous Page 1 2 3 4 5 6 7 8 9 Next Page