Sapphire Nitro+ RX 480 review: Polaris rethought and refined
The wait was worth it for custom Radeon RX 480 cards.
Alternatively, pressing the LED button on the top of the card cycles through the options below, no additional software required.

Speaking of the aesthetics, the Nitro+ RX 480's pockmarked dark shroud looks absolutely sleek and gorgeous despite being hard plastic. It's a refreshing change from the aggressive, angular, overly large (and borderline garish) designs deployed by many graphics cards these days. A sexy metal backplate on the rear of the card—which you don't often see on mainstream graphics cards—makes it even more attractive.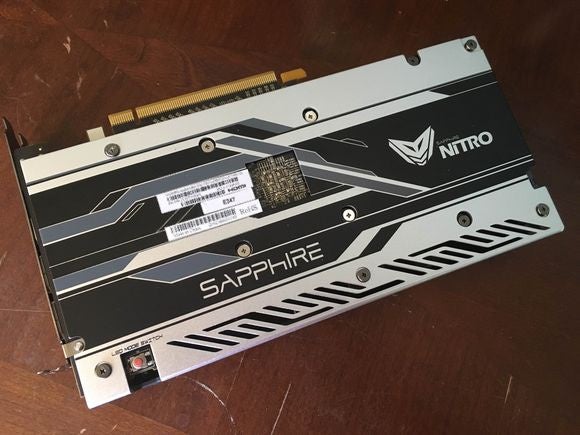 The Sapphire Nitro+ RX 480's backplate.
Sapphire also tweaked the RX 480's connectivity. While the reference board packs a single HDMI 2.0b and a trio of DisplayPort 1.4 connections, the Nitro+ RX 480 cuts the DisplayPorts back to two in order to squeeze in a second HDMI port as well as a DVI port. The latter will come in handy on lower-end monitors, while the extra HDMI port allows the Nitro+ RX 480 to output to both a monitor and a VR headset. Sapphire's decision to swap out an extra DisplayPort in favor of those two connectors seems smart indeed considering the RX 480's budget-friendly price and its position as the cheapest VR-ready graphics card around.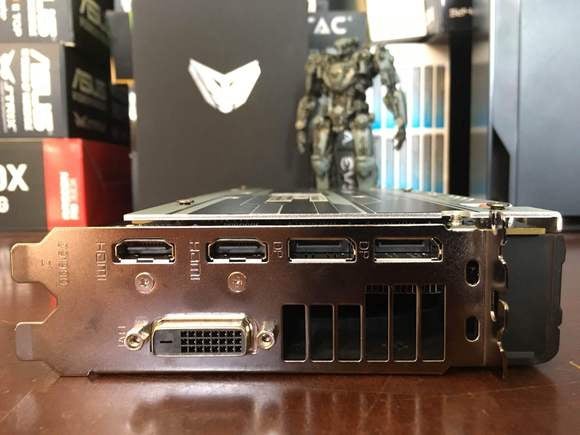 All those new connection technologies allow Sapphire's card (and all RX 480 models) to drive 4K displays at 60Hz over HDMI. The DisplayPorts, meanwhile, can drive 1920x1080- and 2560x1440-resolution monitors at 240Hz, 4K displays at 120Hz, and even 5K displays at up to 60Hz—though the card only offers compelling gameplay at 1080p and 1440p resolutions.
The Nitro+ RX 480 also enjoys the rest of the Polaris GPU's technological benefits, such as the superb in-driver Radeon WattMan overclocking tool, dedicated asynchronous shader hardware for improved performance in DirectX 12 and Vulkan games, advanced video encoding/decoding for up to 4K/60 frames per second streams, and support for high-dynamic range video.
Basically, Sapphire left no part of the reference RX 480 untouched. But what do all those tweaks mean when it comes to actually playing games? Let's dig in.
Next page: System details and Division performance results
Our test system
As always, we tested the Sapphire Nitro+ RX 480 on PCWorld's dedicated graphics card benchmark system, which is loaded with high-end components to avoid potential bottlenecks in other parts of the machine and show unfettered graphics performance. Key highlights of the build:
Previous Page 1 2 3 4 5 6 7 8 9 Next Page