Sapphire Nitro+ RX 480 review: Polaris rethought and refined
The wait was worth it for custom Radeon RX 480 cards.
The most interesting tidbit here is the disparity in DirectX 11 vs. DirectX 12 performance. Nvidia's GTX 1060 absolutely blows away the RX 480 in DX11 in Ashes —but that difference is negated when you activate DX12 mode with Radeon cards, which provides a massive performance increase. All in all, the DX12 boost brings the RX 480 into performance parity with Nvidia's new card, and the Nitro+ RX 480's slight overclock gives it just enough extra juice to technically slip past the GTX 1060. In reality, though, these cards are neck-and-neck in what you'll actually see on the screen.
Next page: SteamVR performance and synthetic benchmarks
SteamVR and 3DMark
Time for some synthetic benchmarks! First up: The SteamVR performance test, which serves as the only major virtual reality standard until more benchmarking tools hit the streets. The SteamVR performance test is better thought of as a gauge for your graphics card's relative virtual reality performance—and as a pass/fail test for determining whether your rig can handle VR whatsoever—than it is for making head-to-head GPU comparisons.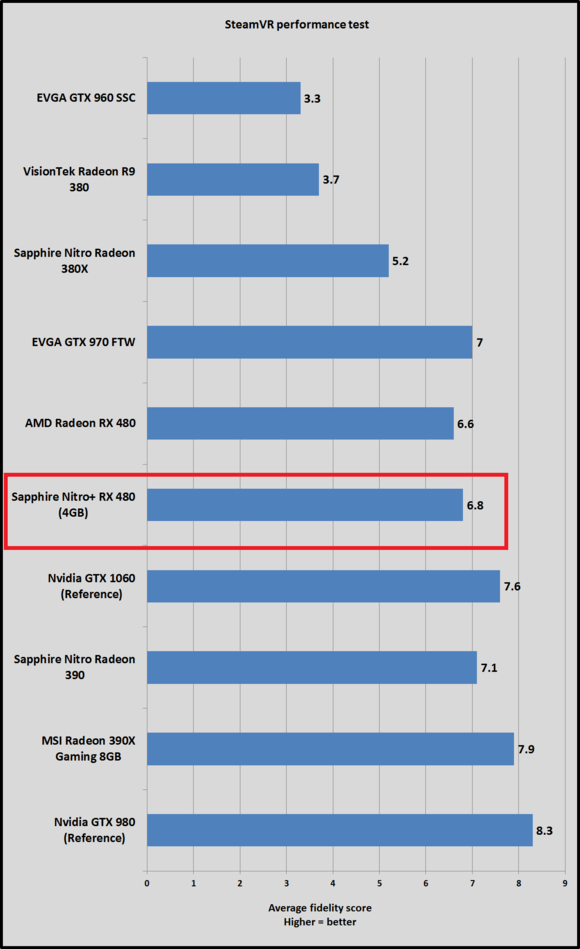 The Nitro+ RX 480 clocks in with a higher average fidelity rating than the reference RX 480 and is definitely VR-ready, although it doesn't score quite as high as the pricier GTX 1060. That's not a big surprise, though, as Nvidia's cards score consistently higher across the board in the SteamVR performance test than AMD hardware does.
3DMark Fire Strike and Time Spy
We also tested the GTX 1060 and its rivals using 3DMark's highly respected DX11 Fire Strike synthetic benchmark, which runs at 1080p, as well as its brand-new Time Spy benchmark, which tests DirectX 12 performance at 2560x1440 resolution.
Sapphire's Nitro+ RX 480 gets a healthy boost thanks to its mild overclock, bringing the card within spitting range of the GTX 1060 in Fire Strike and far surpassing both the GTX 1060 and the stock RX 480 in Time Spy.
Next page: Power and heat
Power and heat
We test power under load by plugging the entire system into a Watts Up meter, running the intensive Division benchmark at 4K resolution, and noting the peak power draw. Idle power is measured after sitting on the Windows desktop for three minutes with no extra programs or processes running.
Previous Page 1 2 3 4 5 6 7 8 9 Next Page