Tested: Nvidia's new Titan X is absolutely decadent in SLI
We test not just one new Pascal Titan X, we test two!
Tom Clancy's Rainbow Six Siege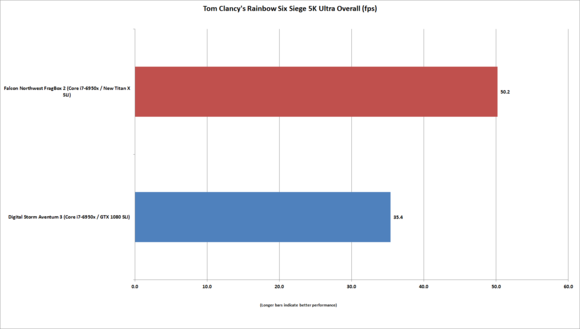 Tom Clancy's Rainbow Siege definitely puts the new Titan X cards in front by a country mile.
Tom Clancy's Rainbow Six Siege also backs up the Far Cry Primal results. While the pair of GeForce GTX 1080 cards were running out of air at 35.4fps, the pair of new Titan X cards buzzed along at 50fps. I'd argue 50fps is pretty playable for most people, while 35.4fps isn't going to hack it—especially in a shooter.
3DMark Fire Strike Extreme 1.1 Graphics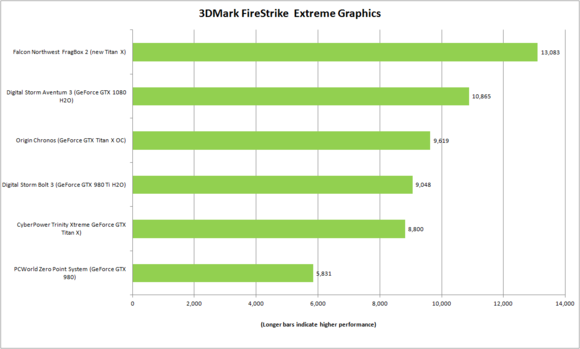 Single card performance compared
We return to the $50,000 field of rivals for our final test of the day, 3DMark Fire Strike Extreme Graphics performance. Ideally, you compare graphics cards by testing them in the same system. That's just not something we can do today. Instead, I reached into our library of data to dig up 3DMark Fire Strike Extreme Graphics scores to give us the next best thing.
3DMark's overall score leans heavily towards the GPU, but the CPU is still factored into it. The specific graphics sub-score, on the other hand, tries its best to isolate just the GPU performance. This makes comparing across different PC builds far more valid as the different CPUs aren't obscuring the results.
Since I don't have SLI scores for all of the systems tested, I decided to disable SLI on the FragBox 2 (which I had also done on the Aventum 3 part of my SLI Bridge testing.) So what you're seeing is the single-card performance of the various GPU being represented.
Viewed in this light, the new Titan X is looking pretty good from pure performance perspective. In performance per buck? Nope.
Conclusion
We won't make any final judgments on the new Titan X until we've successfully ripped one from the guts of a machine for further testing, but I think we can reach a few conclusions from these tests. No surprise: A dual Titan X setup isn't worth it for the majority of people who plan to use it for gaming alone.
The power of dual Titan X's may prove more worthy for someone who uses it for compute tasks as well as gaming, but that's beyond the scope of today's test. Still, it's clear that for the average Joe or Jane who doesn't game on a $2,000 5K monitor, a setup like this is hard to justify.
But again, that's probably missing the point of it all. Most people don't "get" the point of a $189,000 car or a tin of caviar that costs more than a dinner for four, and well, most people probably won't "get" the point of a pair of powerful new Titan X cards either—unless they're data scientists. When it comes to gaming, a glorious pair of SLI'd new-look Titan X cards are made for high rollers with bleeding-edge displays alone.
Previous Page 1 2 3 4