Channels review: Turn your iPad or iPhone into a handheld TV
The Channels app lets you view over-the-air broadcasts and some cable programming in iOS with the right third-party hardware.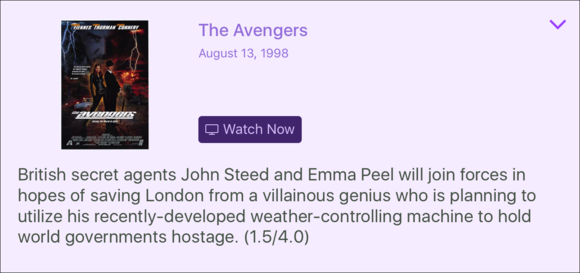 Where available, Channels provides episode details.
Tuning OTA via a networked device that passes along the already-digital signal has appeal if you want ready access to programming from any device on your network instead of being tethered to a television set, its antenna (or a dedicated external one), and a TV set's typically terrible user interface. HDHomeRun models all include two TV tuners, allowing multiple devices on the same network to watch programming at once, whether using Channels or digital video recorder (DVR) software. The app also supports using multiple HDHomeRun units on the same network if you have heavy DVR and viewing needs.
Using Channels
There's little to configure in Channels. The Settings view automatically finds HDHomeRun devices, but they can be added manually if your network filters the Universal Plug and Play (UPnP) messages used by the tuners. The app figures out your geographic location from the channel listings that come up (station call letters are encoded in broadcasts) and should populate your channel list with station names and provide programming details when you browse and tune.
Channels includes a programming guide for selection and episode details where when available; it seems to cover nearly everything across the Seattle broadcast market. It can also buffer live recording up to as much as 90 minutes, allowing pause, fast forward, and rewind. The exact buffer size is limited by available storage on the iOS device. Exiting the channel view immediately deletes the buffer, which seems like a bad design choice unless a user switches channels.
The app has two main views: On Now and Guide. On Now shows favorites that you pick in the Settings screen by selecting an HDHomeRun device, letting you exclude channels you don't watch. For example, in my region, there are many higher-numbered channels that offer non-English, religious, and shopping programs I never watch. And some local stations have multiple HD sub-channels, some of which are dedicated to genres (like Westerns, crafts, and black-and-white movies) that you may prefer or avoid.
The On Now guide shows the current program art, like a television series "card" with an image and the show's name, while the Guide shows upcoming programs. Because this isn't a DVR app, you can't schedule recordings, but you can see what's coming up on the channel. Tapping a screen in On Now or the Guide brings up episode information and a Watch Now button. I'd prefer being able to hold and press or use 3D Touch to bypass the episode screen. In the Guide view, tapping the channel name accomplishes that, but it's not available in On now.