2014 Razer Blade Pro: Only slightly better than last-year's model
The 2014 Razer Blade Pro is overshadowed by its smaller compatriot, the 14-inch Razer Blade; but its attractive price-to-performance ratio renders it worthy of consideration.
Razer's 2014 Blade Pro seems to be caught between two hardware generations. While its less-professional cousin, the 14-inch Blade, benefits from an enormous bump in graphics horsepower and display resolution this year, the 17-inch Blade Pro looks much the same as it did in 2013.
Razer abided by the "If it ain't broke, don't fix it" axiom here, and I can't fault them: The Blade Pro was a beautiful, sleek, and capable machine in 2013, and all that remains true in its present incarnation.
The Blade Pro ships with an Nvidia GeForce GTX 860M that's slightly faster than last year's 765M, but not spectacularly so. Nvidia has crammed some new game-related features into the 800M series though: Battery Boost and ShadowPlay.
Battery Boost allows the computer to dynamically adjust the power draw of the GPU to keep games at a steady 30 frames per second (or higher/lower, depending on your own preferences). ShadowPlay leans into the YouTube, share-everything obsession of modern players by automatically capturing footage in the background without a performance hit.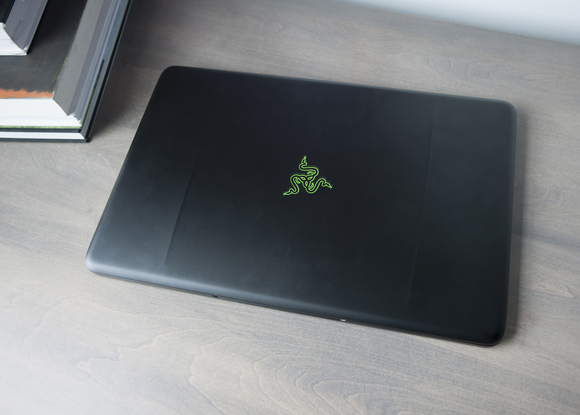 The Razer Blade pro features a large 17-inch display and an all-alumuinum chassis.
Also under the hood: an Intel i7-4700HQ processor (the same as last year), 16GB of DDR3/1600 memory (twice as much as last year), and a 128-, 256-, or 512GB solid-state drive (our review unit was outfitted with a 256GB SSD). There aren't any other options for more capacious onboard storage, so digital hoarders beware. Three USB 3.0 ports are on the left side of the machine, along with HDMI, a combo headphone/microphone port, and a gigabit ethernet port. If you prefer to go wireless, the Blade Pro sports an 802.11ac Wi-Fi adapter and Bluetooth 4.0.
In lay terms
So what does all that mean for practical, day-to-day use? Perfectly acceptable performance that won't take your breath away, but that stacks up fine against the competition on most counts. Razer's machine earned a Laptop WorldBench 9 score of 106, which put it just slightly ahead of our reference machine: A Dell XPS 15 with an Intel Core i7-4702HQ and an Nvidia GeForce GT 750M video processor. But as you can see in the chart below, it lagged behind both the 2014 edition of the Alienware 17 ($2968) and the Digital Storm Krypton ($2251).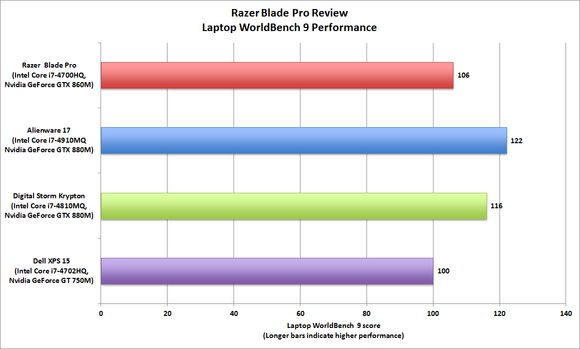 The Razer Pro outperformed our reference system, a Dell XPS 15, in our WorldBench 9 benchmark suite. But it trailed the the Alienware 17 and Digital Storm Krypton gaming laptops. Click on chart to enlarge.