2014 Razer Blade Pro: Only slightly better than last-year's model
The 2014 Razer Blade Pro is overshadowed by its smaller compatriot, the 14-inch Razer Blade; but its attractive price-to-performance ratio renders it worthy of consideration.
The Blade Pro's gaming performance won't blow your mind, either, but it does exceed the 60 frames-per-second threshold that most gamers expect from a gaming rig. The Blade Pro delivered BioShock Infinite at 70.4 frames per second, with resolution set to 1920x1080 pixels and image quality at medium. But BioShock has been around for a while, so there isn't a lot of headroom to accommodate future AAA titles that will demand more resources. The Alienware 17 and Krypton both run Nvidia's top-shelf GeForce GTX 880M, and each of those machines can play BioShock at more than 120fps.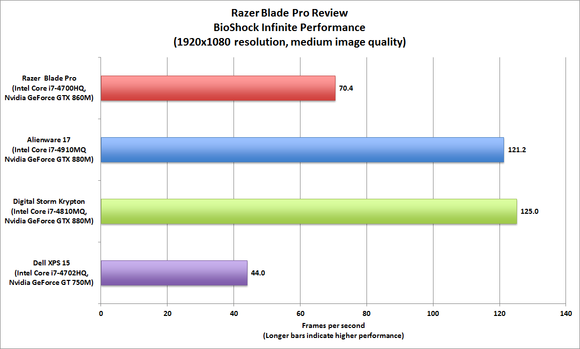 The Razer Pro delivered BioShock Infinite at a healthy frame rate, but Nvidia's GeForce GTX 880M helped its bigger, heavier components outperform it.
The Blade Pro's battery hung on for a respectable 3 hours and 18 minutes in our punishing battery-drain test. That's 20 minutes longer than the Alienware 17, which uses Intel's newer Core i7-4910Q CPU (Razer picked Intel's Core i7-4702HQ), but six minutes short of the Krypton (Digital Storm uses an Intel Core i7-4700HQ). All the major gaming laptop manufacturers have hit the same battery wall--20 minutes of battery life won't have a big impact on anyone's buying decision.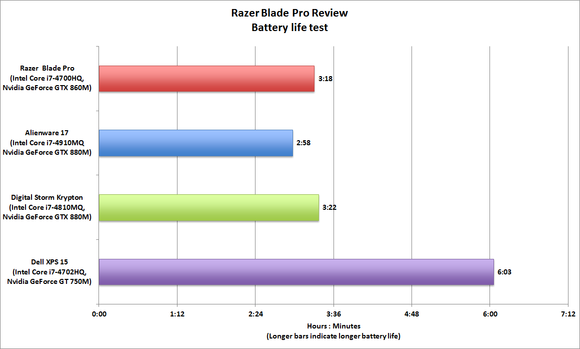 As with most gaming laptops, you won't want to stray far from an AC outlet while using the Razer Pro.
So the Blade Pro's performance is at the high end laptop scale, but it's far from the top of the heap.
Weight matters
Powerful gaming laptops are no longer uncommon. A few manufacturers, Alienware among them, once dominated this market, but now there are many, many players in this space. But in their quest for power, many of these companies seem to have forgotten the reason for buying a laptop in the first place: Road trips!
Take the Alienware 17. That beast weighs more than nine pounds. Add its power supply and you're schlepping 11.5 pounds. That's enough to put a strain on the strongest of computer bags, not to mention your shoulder. The Krypton is slightly lighter than the Alienware, but it ends up weighing about the same as that machine when you take its power brick into account.
The Blade Pro weighs in at just 6.6 pounds, and its power supply adds just one more). And where its two competitors are both nearly two inches thick, Razer's machine is a svelte 0.88 inches). Those measurements put the Razer Pro in the same class as Apple's MacBook Pro line, with similar attention paid to aesthetics. The Blade Pro's black aluminum case, however, shows every single fingerprint. I left a bevy of them just putting the computer in my bag.