Alienware Steam Machine hands-on: Valve's vanguard for PC gaming in the living room
The first Steam Machines are finally here, and made by Alienware. We go hands-on.
Unfortunately I've had some issues where the Steam Controller says it's having "Connection Issues" and needs better line-of-sight even when I'm only ten feet away, leading to me removing the dongle from its hidden alcove and sticking it in the front of the machine. We'll let you know if that problem goes away, as it seems to have started clearing up after a recent controller firmware update.
Living with SteamOS
"Yeah, yeah, yeah. It looks great. That was never in question. Talk about SteamOS." Okay, Mr. Contrived Segue, I'll oblige.
SteamOS. Call it Valve's middle finger to Windows, call it a "gaming-focused" operating system, call it pure lunacy—I don't care. It's Valve's custom Linux-based OS, designed solely for and around living room gaming.
If you haven't used it, you can still get a pretty good idea of what it's like by just heading to Steam and booting up Big Picture Mode. Voila. You're (pretty much) using SteamOS. This is what it looks like: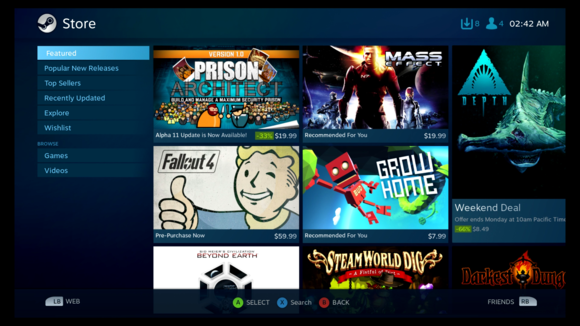 Alienware did a pretty great job of transforming Windows into a ten-foot UI last year when it released the "It's-totally-not-the-Steam-Machine" version of this box, the Alienware Alpha. But there's no getting around it: Windows just wasn't designed for that sort of experience.
SteamOS feels like a much more unified environment. Everything is geared toward the Steam Controller, everything works right out of the box. Valve's even built possibly the most intuitive controller-based typing interface I've seen, taking advantage of the Steam Controller's two haptic pads. You can use each half of the keyboard individually, and then pull the corresponding Left or Right trigger to input letters. It works great.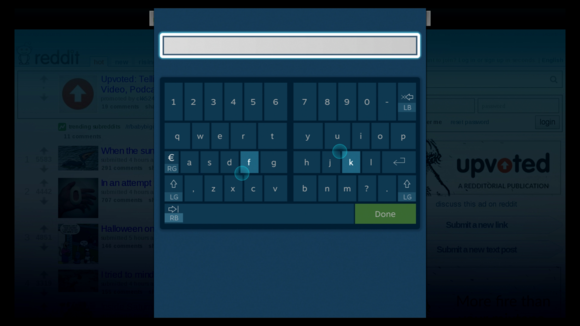 Valve's significantly updated Big Picture in the past few months, and all the important bits you'd need to play PC games in the living room are here—the store, your library, and community content (mods, broadcasts, et cetera).
Bringing PC gaming into the living room comes with a few tradeoffs, however.
First, games. This is a Linux-based OS. Those of you who already game on Linux/Mac will understand what that means, but uh...how do I put this nicely for Windows gamers? Your beautiful, extensive Steam library? The one you've painstakingly put together for years? Expect it to be cut in half when you turn on your Alienware Steam Machine—or any Steam Machine, for that matter. Personally I went from 700+ games down to around 215, despite the strides that Steam for Linux has been making.
The rest can be streamed over your network from a Windows-based gaming PC, preferably from a wired-in PC to your wired-in Steam Machine—that's where the Gigabit ethernet jack comes in handy. But if you wanted to stream games, you could just go with the much cheaper Steam Link.
Previous Page 1 2 3 4 5 Next Page