Alienware Steam Machine hands-on: Valve's vanguard for PC gaming in the living room
The first Steam Machines are finally here, and made by Alienware. We go hands-on.
Hopefully the situation improves if Steam Machines sell well, as there'll be significant incentive for developers to build a native Linux version. But we're sort of stuck in a chicken/egg problem where Steam Machines need to catch on for developers to make more Linux games so that Steam Machines catch on. (For more on what playing games is like, please check out my Steam Controller impressions. That's where I've hidden most of that information.)
Also, the machine is surprisingly locked-down, considering Valve built it partially in response to fears of Windows becoming a walled garden. One issue I find particularly galling: Accessing your files and saved games is needlessly obfuscated. It is, as far as I can tell, impossible to reach the SteamApps folder without root access, and saved games are also (again, as far as I can tell) hidden behind that wall.
This makes it even more frustrating that Valve hasn't mandated the use of Steam Cloud, or made it so all Steam Machine saves are uploaded to some cloud repository at the very least. In the past, having two or more computers was an edge-case. Now it's a scenario Valve directly encourages. I shouldn't be forced to finish a game on my TV just because I started it there. I want the freedom to move back and forth between my PC all the time, for every game.
And don't expect the media options you get from other consoles. Despite a note on Alienware's site saying "You'll be able to stream TV shows and movies," there's no easy-access Netflix app, no Hulu or HBO Go or Prime Video or whatever. It's got a web browser but that's a hack solution at best, not official support.
Two more annoyances: You can't turn the machine on from the controller, like a console. You have to boot it by physically pressing the power button on the front. And changing users causes the whole machine to restart, which I think is a limitation of the way SteamOS is built.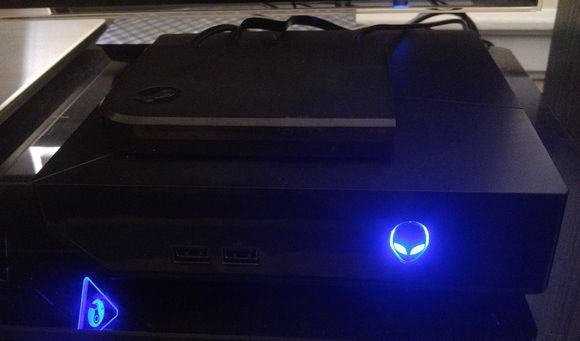 Alienware's Steam Machine. Credit: Hayden Dingman
SteamOS has grown significantly in the past two years though, and I expect we'll see even more rapid iteration once Steam Machines are in the hands of a vocal and demanding public.
Performance
So how much Steam Machine can you get for $450-750? Er…
I've got the highest-end Alienware model at my apartment, which retails for $750 and packs an i7-4765T Quad Core processor clocked at 3GHz, 8GB of DDR3 RAM, a 1TB 7200rpm hard drive, and a custom-built Nvidia GPU that's equivalent to an 860M. The $450 base model isn't much different, except it packs an i3-4130T Dual Core chip, 4GB of RAM, and a 500GB hard drive.
Previous Page 1 2 3 4 5 Next Page