Apple Magic Keyboard review: Should have called it basic
It's a standard Bluetooth keyboard—where's the magic, again?
Going back and forth, I started to feel like I was hitting the laptop keys harder, while typing on the Magic Keyboard felt like it took slightly less effort. But the difference didn't seem striking to me (if you'll excuse the terrible pun). The keys on the Magic Keyboard are large and flat and stark white; they don't wobble at all; and they're generally pleasing to type on.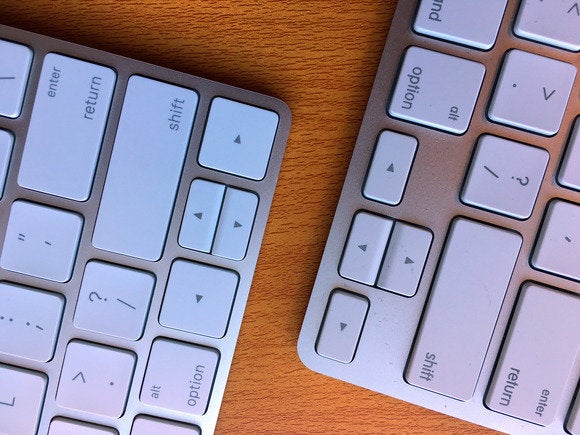 The biggest change to the keys is the new full-height left and right arrows on the Magic Keyboard (left). I have to retrain my fingers to find them without looking. Credit: Roman Loyola
More magic than the competition?
Before getting the Magic Keyboard, I primarily used Apple's wired keyboard, and occasionally dabbled with Logitech's excellent Bluetooth Easy-Switch Keyboard ($99.99), which we reviewed very favorably in 2013.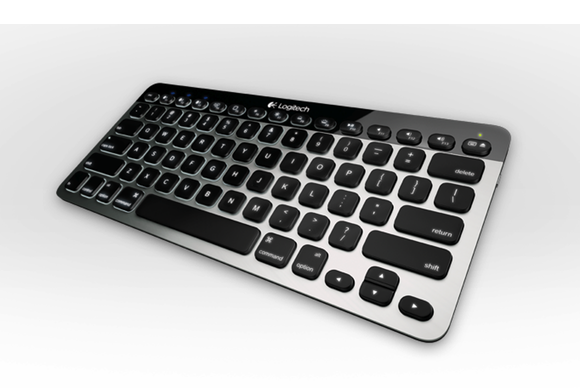 The Logitech Bluetooth Easy-Switch Keyboard costs about the same as the Magic Keyboard, while including extra features like easy pairing of multiple devices, and backlit keys.
Besides its smaller size and lack of a wire, the Magic Keyboard doesn't improve on the Wired Keyboard in any significant way. Like Jason Snell, I find the full-size right and left arrows a bit harder to find with my fingers than the half-size arrow keys on my MacBook Air and Wired Keyboard. But I can adjust to that. I don't miss the dedicated number pad on the Wired Keyboard, but I did like having the Page Up and Down buttons. (On the Magic Keyboard, I can replicate that by holding Fn while pressing the up and down arrows, but that's a two-handed job.)

The Magic Keyboard's slightly larger keys have shorter travel, but remain pleasant to type on. Credit: Roman Loyola
Compared to the Logitech Easy-Switch Keyboard, which costs only ninety-nine cents more, the Magic Keyboard loses a little of its sparkle. While I prefer the clickier scissor-switch mechanism in Apple's keyboard over the mushier-feeling keys on Logitech's, but only slightly. The Logitech keyboard does have backlighting, which is a great feature if you like to work in dim rooms. The keyboard even kills the backlighting when you're not typing, and brings it back when it detects your hands over the keyboard again.
Logitech's keys don't feel cheap, either—the company says its PerfectStroke keys distribute force evenly across the keys even if you strike the edge. The Easy-Switch Keyboard's keys don't wiggle much if you don't hit them straight-on, and I like how each key is indented slightly to help your fingers find the center, rather than the much-flatter keys on the Magic Keyboard. Logitech's keyboard is a little quieter too.