Apple Magic Keyboard review: Should have called it basic
It's a standard Bluetooth keyboard—where's the magic, again?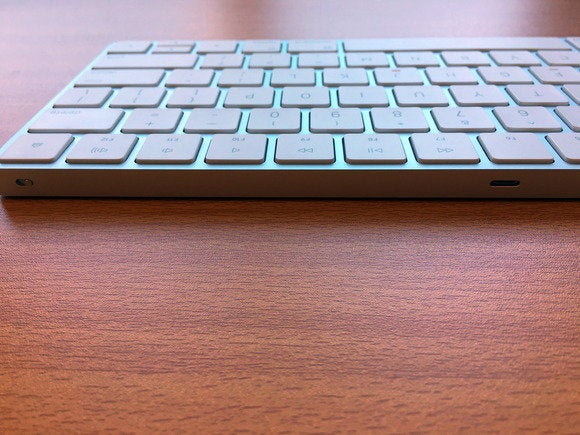 Along with the Lightning connector, Apple included an easy on-and-off switch so you can save battery life and prevent accidental input while the keyboard is in your bag. Credit: Roman Loyola
But the Easy Switch Keyboard's trump card is how you can set it up with up to three devices (say, two Macs and an iPad) and switch between them when you press F1, F2, and F3. While the Magic Keyboard can pair to my iPad as well as my Mac, I have to first turn the Magic Keyboard off and then on again, and manually pair it to the iPad in Settings. When I wanted to switch back, the Mac refused to pair with the keyboard, even after I told the iPad to "forget this device." Luckily I had a trump card: Reconnect the Lightning cable, which forced the pairing instantly.
Bottom line
If you want to use one keyboard with multiple devices, the Magic Keyboard should do the trick, but I had issues switching the pairing back and forth, while the Logitech Bluetooth Easy-Switch Keyboard more than lived up to its name.
If you're purchasing a new iMac that comes with the Magic Keyboard, the smaller size and slightly reduced key travel shouldn't be too jarring a change from previous Apple keyboards. If your old keyboard is on its last legs and you want to replace it with an Apple model that matches the rest of your gear and never needs AA batteries, the Magic Keyboard is a decent purchase. Just don't expect much extra bang for the extra bucks.
Previous Page 1 2 3