Boost your iPad's storage with Seagate Wireless Plus
With built-in Wi-Fi and 1TB of storage, Seagate's portable hard drive is designed to carry the heavy digital cargo for your iPad, iPhones, and Android devices.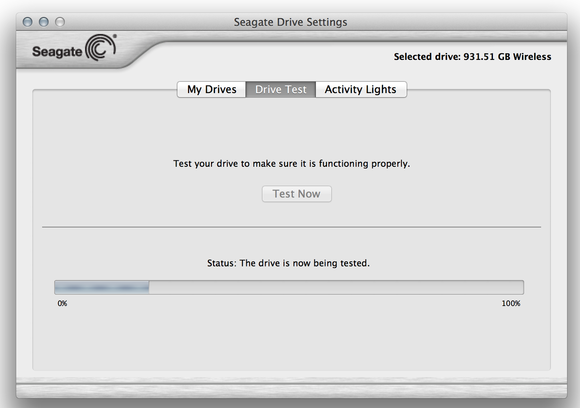 Mac Utility: Seagate includes a Mac app that can test the Wireless Plus, but it doesn't do much.
To be able to write to the Wireless Plus while connected to your Mac via USB, you must install the Seagate software bundle that includes a limited edition of Paragon NTFS for Mac, which allows Macs to write to NTFS-formatted drives. The Wireless Plus needs to be NTFS formatted, and Macs can read NTFS-formatted drives but not write to them unless you install a third-party software like Paragon. The software bundle also includes an optional Seagate Drive Settings utility that tells you the available storage, the drive's serial number, and other information. The utility also has a basic Drive Test function for troubleshooting. It's a helpful little utility but it doesn't do a whole lot, so it's not necessary to install it.
The drive itself looks like any ordinary hard drive and it feels sturdy. The Wireless Plus doesn't have a battery level gauge on its case, which would have been a convenient feature. To check the drive's battery life, you have to use the Seagate Media app or the Web interface. Seagate claims a 10-hour battery life, which is plenty.
Bottom line
The Wireless Plus provides a ton of storage and easy accessibility for all my devices. It has found a place in my backpack next to my iPad--at least until the 1TB iPad eventually comes along.