Conquer your inbox with the best email apps for iOS
The App Store is swimming with email apps, and one of which is sure to match your productivity style.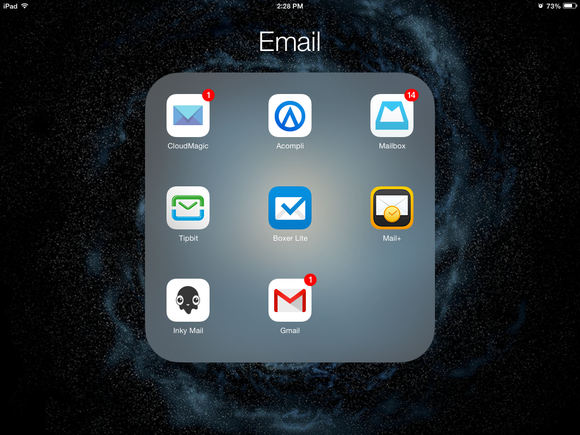 Apple's stock mail app got some nice upgrades with iOS 8, but it still lacks many of the more powerful features found in other third-party email apps.
With so many different choices out there, you may be wondering what the best alternative is for your needs, so we tried out a handful of the most innovative email apps that want to be your inbox managing assistant.
Each of these apps take vastly different approaches to email. Some help you categorize the jumble of messages to mine the gems, while others ruthlessly cut through the clutter to achieve a pristine and empty inbox.
I tried out all of these apps on an iPad mini, as it's compact enough to bring everywhere and use as a primary email device. However, all of these options are universal apps with iPhone 6 and 6 Plus support either in place or pledged to come.
For apps that supported it, I connected a Gmail, iCloud, Microsoft Exchange, and Outlook account to see how they handled each of the dominant email platforms. I also wanted to discover what they brought to the table in terms of unique features, interface design, and their overall philosophy to managing email.
Best overall: CloudMagic
CloudMagic (free) stands on top of the pyramid for its minimalist design, integration with other cloud storage services, and how well it pushes email from almost any type of account. It supports Gmail, Yahoo Mail, Outlook, iCloud, Microsoft Exchange, Office 365, AOL, and IMAP.
CloudMagic's strength is its smart cards, which can save a message into a preferred productivity tool: Evernote, Todoist, Pocket, Trello, OneNote, Zendesk, Salesforce, Asiana, and MailChimp are all supported.
CloudMagic also has a pretty clever edit mode that queues up several messages for editing with one action. You can swipe on messages to archive, delete, or attach a follow-up reminder for CloudMagic to bug you about it later.
In addition, you can link CloudMagic to a cloud storage account for attaching files to outgoing messages--it works with Google Drive, iCloud, Dropbox, and OneDrive. And of course the app has been optimized for iOS 8 and the iPhone 6 and 6 Plus.
Best for reaching inbox zero: Mailbox
If you love the satisfaction of an empty inbox, then Mailbox (free) could be your cup of tea. Its whole premise is to help you reach the elusive Inbox Zero by swiping away your messages, with each of its gestures attached to a specific action.
Not only do the swipes archive and delete messages, but they'll "snooze" an email, which then schedules it to re-appear in your mailbox after a specified amount of time. It's good for those messages that you aren't ready to archive but don't need to keep in you inbox, mocking you with their unfinished status.