Create a Mother's Day card with iPhoto '11
Say Happy Mother's Day with an iCard. Adam Berenstain walks us through the steps.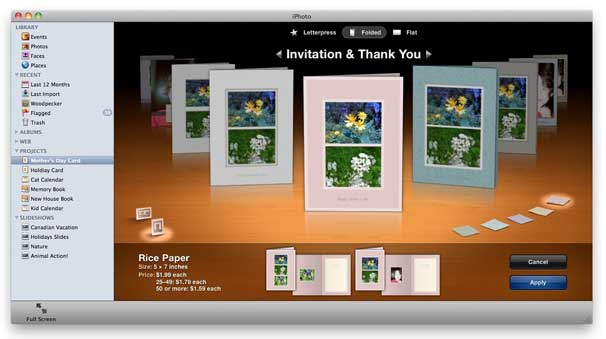 iPhoto '11 lacks a Mother's Day-specific card, but its many themes help you create your own.
Customize your message
A new view shows your card's cover and interior. Here you can click the placeholder text and your pictures to fine-tune your message and access basic editing tools. With them you can change your text's font, size, alignment, and more. You can also click a photo to drag or use the slider to zoom and focus on what's important in the shot.
To change your card's layout, select a page by clicking near the edges of the card, then click the resulting menu to choose a new design. You can select pages with photo-heavy layouts by clicking a picture on the page, then clicking on the wooden backdrop behind your card. Note that layout options vary depending on the theme you've picked. You can change the card's theme at any point by clicking the Change Theme button at the top of the window.
For even more options, select an element and click the Layout, Options, or Photos buttons at the bottom of the window. The resulting sidebar lets you access additional photos you've selected for use in your card, and you can even apply simple color effects such as sepia, antique, or black and white to your photos.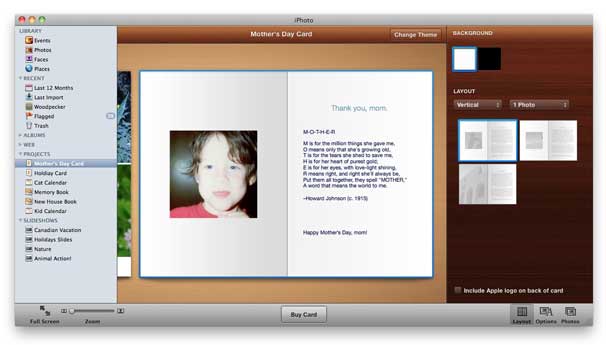 The formatting sidebar lets you edit features, like removing the default Apple logo from the back of your card.
Brighten mom's day
With your card selected in the sidebar, select File -> Print. In the Print window, select your paper size and set your print options. You'll probably want to skip plain-old inkjet paper and use the heaviest card stock your printer supports, so check your manual. To save a digital file of your card to print at your local copy shop, select the PDF button, choose Save As PDF, then save the file to your Mac.
Once your card is finished, make a quick trip to the Post Office, then pat yourself on the back. With some work and your Mac, you've made this Mother's Day a little more special. Now just don't forget the flowers and that phone call.