Creaticity: The ultimate guide to better selfies
Yes, the selfie can be art. But not if it's a duckface mirror shot.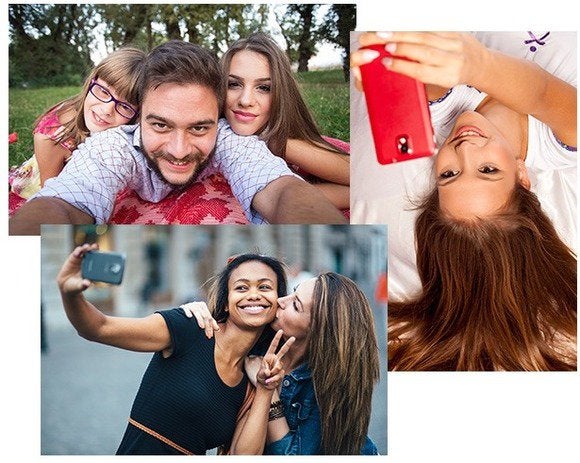 Thanks to smartphones and social media, snapping self portraits has become a global obsession. While it's easier than ever to take good pictures of yourself, it's all too easy to send the wrong (or a ridiculous) message. To ensure you're a responsible and respectable member of the selfie generation, absorb the following advice.
Backgrounds matter
Evaluate the setting of your selfie and ensure it's appropriate; happily, your iOS device has a front-facing camera so you can compose with confidence. For example, the background shouldn't reveal anything horrific (say, a turkey grinder) or inappropriate (such as recently deceased people or pets). As a general rule, hospitals, funerals, and taxidermies are out.
Be careful also of surroundings that reflect negatively upon your work or hygienic habits, or lack thereof. Don't post beach selfies on sick days and don't subject anyone to your messy bedroom, filthy bathroom, crumb-riddled couch, or cluttered car. If you do succumb to the siren call of a car selfie, put the car in park and ditch the seatbelt (and consider shooting your reflection in the side view mirror instead).
You are what you're (not) wearing
For better or worse, it's human nature to judge others at first sight, and the pictures you post online live forever and are viewable by anyone. So while that, "I got high in Colorado," shirt or bubble bath shot seemed like a great idea at the time, your mate/mom/employer/teacher may disagree (and besides, you could drop your phone in the tub).
It goes without saying that nude shots always come back to haunt you (same for evocative groping), but chest-up captures with bare shoulders are also risky--they make people wonder if you're naked, which can come off as creepy.
Let there be light
Take a moment to assess lighting before firing off a shot. Ideally, you want available light to be in front of you or beside you. If you're desperate for more light, try using the flashlight feature of a friend's iOS device (swipe up from the bottom of the screen to find it in the Control Center) or position your monitor or laptop in front of you to create more light.
Regarding the latter, your Mac came with Photo Booth, an excellent picture-taking program that lets you create selfies with interesting backgrounds and effects (and you don't have to stretch out your arms). Lastly, if possible, turn off your camera's flash to avoid shiny foreheads and snouts.
Shoot targeted close-ups, shadows, and reflections
Chances are good that, by now, your friends and family know what you look like. To avoid the appearance of seriously low self-esteem, treat them to something more creative than your whole face. For example, take a picture of one eye, fill the frame with your hair, bicep or six-pack, or capture your feet in interesting places (shoot from the waist down to elongate legs).