Does the Apple Watch Sports go the distance for runners?
Apple Watch owners have had their new smartwatches for only a short time, but the early indications are the Apple Watch could be a run-away hit for some serious runners and running on empty for others.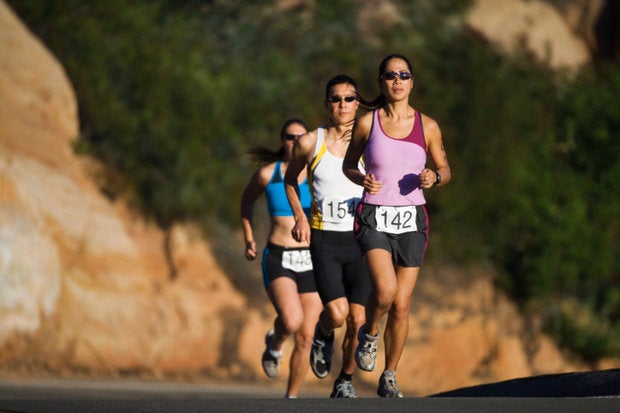 Whenever Apple puts out a new product, it's going to draw headlines. There's no better example than the Apple Watch -- its first offering into the fitness market, which has a potential to be a 22 million unit market in the U.S., according to Market Strategies International.
But how will Apple Watch Sport do with runners, many who already run with something on their wrist?
It's too soon, of course, to tell since the watch just arrived in most consumers' mailboxes. But early indications are that the Apple Watch could go either way for this coveted group of potential users.
The Good
Ramon T. Llamas is research manager of wearables, mobile phones and smartphones for IDC He's a runner, too. "For me, it comes down to the following things: time, distance, heart rate and cadence," he said.
The Apple Watch delivers those things, with one exception: it doesn't have a built in GPS. "You must rely on your iPhone," Llamas said. At first -- then, the watch is supposed to learn your running patterns. "After a while, you can go without your iPhone and it'll track you from there," he added.
The Apple Watch Sport could also appeal to runners who wants more from what's on their wrist than just a fitness tracking device, says Janice Anderson, vice president in the technology division of Market Strategies International.
"Where the Apple Watch may have a competitive advantage is that its added offerings, which for a reasonable premium, allows runners to track their health while viewing an incoming text, scrolling through new emails and paying for a Starbucks coffee without compromising style," Anderson says.
It can also track heart rate without a chest strap, a device that annoying and uncomfortable to some runners.
The Bad
That lack of a built in GPS could be a stumbling block for Apple, especially for runners who want to track their workouts as accurately as possible. "For some people, they proclaim this to be a nonstarter for the watch," says Llamas.
Brian Dalek, digital editor at Runner's World, has been testing the watch for the publication. On April 26, he ran the Big Sur International Marathon with the Apple Watch Sport on one wrist and the Garmin Forerunner 10 on the other.
"The Apple Watch tracked just like the Garmin did," he said. However, he carried his iPhone with him, so he expected that to be the case.
He doesn't normally run with his phone, but did so on this marathon because Big Sur is one of the most scenic races in the United States, and he wanted to take pictures - and test the Apple Watch at the same time. He'll start doing phone-less runs through the month of May.