Google YouTube Music Key one-ups streaming music services by adding videos
Google now gives you something other streaming music services can't provide: access to music videos and streaming music, even offline. Meet YouTube Music Key, a beta subscription service Google launched Wednesday.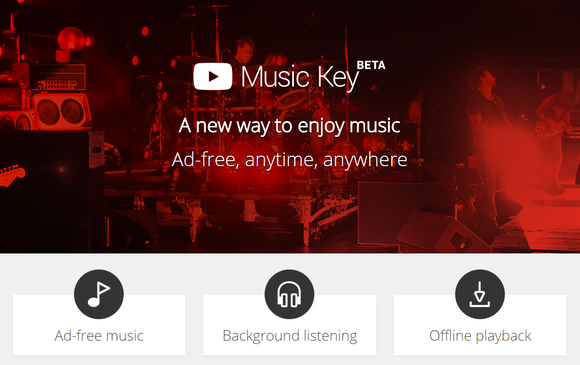 Let's face it: perhaps the best free music service available isn't Spotify, Rdio, Beats, or anything else--it's Google's YouTube. And on Wednesday, Google launched YouTube Music Key, a subscription service that makes it easier to check out your favorite artist's videos, too.
Google actually made two announcements: First, the company is reorganizing YouTube to break out a separate "Music" tab, complete with "discography" mixes that stream songs from a single artist, one after the other, with no need to click through. And then there's YouTube Music Key, a $9.99/month service that bundles in a bunch of features for those who can't get enough music. In the coming days, you'll also be able to play "albums" of an artist's music, either via YouTube itself or its partners.
Why this matters: For the better part of a decade, Google has been trying to increase the number of times you view its YouTube videos, whether it be on the Web, on your TV, or on your mobile phone. With YouTube Music Key, Google is exploiting its niche as one of the largest repositories of music videos, pairing it with its on-the-go music service, Google Play Music All Access. And quite frankly, if you view it from Google's perspective, the other services can't compete.
Google's music play: music, videos, offline access
So what is YouTube Music Key? A bundle of several features: ad-free video playback, naturally; offline playback, so that you can listen to YouTube music without an Internet connection; and the ability to play back music as a background service, meaning that you can surf the Web and still listen to your favorite tunes. Oh, and Google tossed in a free subscription to Google Play Music All Access, too--Google's MP3 a-la-carte streaming service that also costs $9.99 per month. So that's quite a deal, on paper.
But, as you might imagine with a Google product, YouTube Music Key is in beta. For those who get it on early, Google will knock down the price to $7.99 per month. And for those who can wangle an invitation--act fast and ask for one--you can try it out for six months for free, Google says. YouTube's "biggest fans," presumably frequent visitors, will also be asked to try it out for free, so you may already have an invitation waiting.
A number of streaming music services already compete with Google in the mobile space, all mostly settling on the $7.99 to $9.99 price tier. (The one exception, Soundcloud, has quietly phased out its repository of top-tier music on its free service as it transitions to becoming a licensed service.)