How to AirDrop photos and videos between Macs and iOS devices
The Photos apps for OS X and iOS make it super simple to share photos and videos, even without an Internet connection.
Nothing feels more futuristic and Star Trek than using AirDrop to instantly beam pictures and videos to others while you're out and about. There's no file size limit, no setup, no software to install, and no password to memorize. And since AirDrop uses Bluetooth, you don't even need an Internet connection or a Wi-Fi network to make it work, though you can use a Wi-Fi network if you want. That means you can use AirDrop to fling files to and fro in places that you normally can't—airplanes, cruise ships, and camping trips, to mention a few. In this column, you'll learn how to use AirDrop inside Apple's Photos app, plus get some ideas for using AirDrop in other apps.
AirDrop system requirements
To AirDrop pictures and videos between iOS devices, you need an iPhone 5 (or newer), an iPad (fourth generation or newer), an iPad mini, or an iPod touch (fifth generation or newer), running at least iOS 7. To AirDrop files between an iOS device and a Mac (or vice versa), your Mac has to be made in 2012 (or later) and it must be running OS X 10.10 Yosemite or later.
To AirDrop files between two Macs, they both need OS X 10.10 Yosemite or later. Technically speaking, if you want to transfer files between two Macs using an AirDrop window in the Finder, instead of the Photos app, you don't need the latest and greatest hardware or OS—both Macs simply need OS X 10.7 Lion or later.
Setting up your devices for AirDrop
To get the AirDrop party started between iOS devices running iOS 8 (or later), launch the Control Center by swiping upward from the bottom edge of the display. (In iOS 7, use the Settings app instead.)
Tap the AirDrop icon to the left of the AirPlay icon (if you don't see it, your iOS or the device itself is too old). In the resulting menu, pick who you want to share files with: Contacts Only or Everyone. Tap Contacts Only and just the people in your Contacts app can see your device via AirDrop. Tap Everyone and anyone using AirDrop within about 30 feet of you can see your device. If you're trying to share images with someone who isn't in your Contacts app, it's quicker to set AirDrop to Everyone than it is to add them to your Contacts app.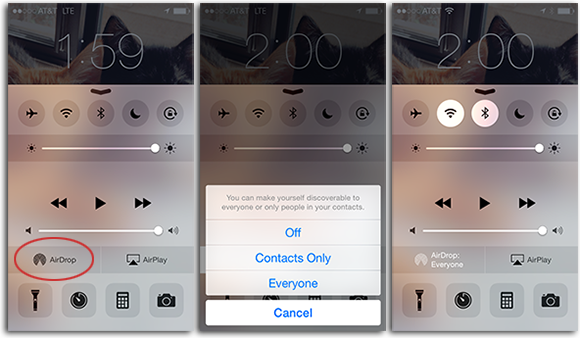 Tap the AirDrop icon circled here (left) and the next menu lets you pick who to share files with (center). Tap Contacts Only or Everyone and the AirDrop icon turns white. Wi-Fi and Bluetooth are also automatically enabled if they weren't already.