Insurer's drones offer a bird's eye view of property damages
Travelers is testing drones as an alternative to hiring third-parties to assess roof damage, but regulations remain a major impediment to widespread commercial use of the technology.
But Gee remains optimistic, noting that drone use will "vastly expedite damage assessments down the road." Exactly when "down the road" is an open question. The FAA will reportedly ease up on its UAV pilot's license and spotter rules by the middle of the summer. The 500-foot rule will likely take longer.
In the meantime, Travelers, which has conducted only a few drone property assessments due to the restrictions, will continue simulating drones from various manufacturers in Claims U, Gee says. Moreover, Gee says he has personally gone to Capitol Hill to persuadethe FAA and other principals that drone use would be a vital part of Travelers' business. "We're having a lot of conversation to help move the process along so we can use [drones] cost-effectively," Gee says.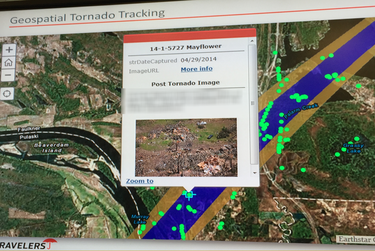 Agents use satellite imagery and geospatial software to create color-coded maps of hail storms, tornadoes and floods. (Click for large image.) Credit: Travelers
Gauging natural disasters with satellites, social media
Drones are merely a part of the high-tech tools Travelers employs to enable its claims agents to analyze damages to properties and automobiles.
Agents also use satellite imagery and geospatial software to create color-coded maps -- red bad, green good -- of hail storms, tornadoes and floods. One such map showed the pockets of destruction caused by a tornado in Pulaski County, Ark., with blue dots representing homes and orange dots representing businesses.
To get an idea of the extent of natural disasters in regions where it has a lot of customers, Travelers has also created a social media dashboard that enables it to collect damage photos from Twitter, Facebook and other public data sources. "We can put together a picture of how damaging [a catastrophe] was before getting physical access to the site," Gee says.
Gee says Travelers CIO Madelyn Lankton provides the tools, including claims platform, geospatial software and other technologies to support his team. "Ninety-eight percent of what we do is driven through an IT process that Madeline's department is building for us," Gee says.
Travelers also sees opportunities in the booming market for smart homes, leveraging the Internet of Things, in which clients might one day lower their insurance premiums by installing smart locks, stoves, circuit breakers and other connected devices. The company is particularly interested in smart water shut-off valves, which can prevent thousands of dollars in losses by automatically killing water flow to head off damage created by burst water pipes and other calamities.
As Gee says, "They keep the unexpected from happening." You'd be hard pressed to find an insurance provider who doesn't appreciate that.