Killing the desktop: Can you survive in Windows 8's modern UI alone?
The mission: To spend a week solely in Windows 8's modern UI. The results: Enlightening. The verdict: You'll have to read to find out.
Twitter's Windows 8 app, a recent entry to the Windows Store, sated my thirst for microblogging, but Facebook has yet to make an official appearance on Windows 8. So I stuck to the website. I found a few Facebook apps in the Windows Store, but meh.
The same goes for the social features in the People app. Meh. Windows 8's Calendar and Mail apps are functional enough, if a bit clunky and bare-bones. The Calendar app doesn't play nice with Google Calendar and is missing functionality you can find in Microsoft's own Outlook.com calendar, while the Mail app won't work with POP3 email accounts. Stick to online services if you can, as the communications options in the Windows Store are as bleak as the productivity selection.
But enough productivity talk! The workday isn't complete without a little music.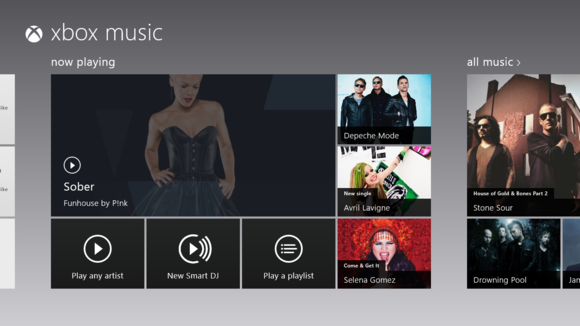 Xbox Music follows the standard Windows 8 design aesthetic.
Spotify handles my tunage needs on the desktop, but with no modern UI version in sight, a hunt for alternatives began. Many top streaming services are no-shows in the Windows Store, but Windows 8's baked-in, ad-supported Xbox Music service (there's also an ad-free premium version for $10 per month) fit the bill well enough. Part of the larger Windows 8 Music app, Xbox Music streams millions of songs on demand, and it includes the Smart DJ feature that plays an uninterrupted radio-esque stream of music related to a particular artist.
The lack of a YouTube app stung, though. Back to the Web!
The annoyances: Surprisingly few
A large part of an operating system's overall ease has to do with the little things. Unfortunately, some of Windows 8's finer details became annoying after a week of solid use.
Many of the modern UI's controls are hidden behind a right-click or swipe, which--as some UI experts have pointed out--makes the learning curve overly steep. When I first started using the Windows Store, for example, I had no idea you could get back to the Store's homepage by right-clicking to get a Home link. Even when I did remember this, it took me a long time to resist the impulse to constantly hit the Store's back button to get back to the front page.
Moving forward, Microsoft's Snap feature is wonderful, but it's irritating that the screen real estate is limited to a 75-25 split. A 50-50 split would be a huge boon for multitasking. Windows Blue will allegedly add that option, but for now, it's a serious annoyance since many apps lose navigational abilities sitting in the smaller Snap panel.
Previous Page 1 2 3 4 Next Page