Killing the desktop: Can you survive in Windows 8's modern UI alone?
The mission: To spend a week solely in Windows 8's modern UI. The results: Enlightening. The verdict: You'll have to read to find out.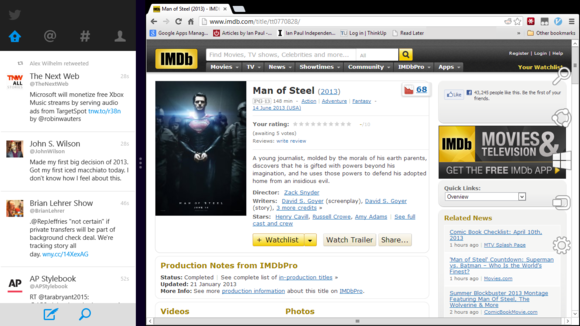 Notice the Twitter app Snapped to the left of the screen.
Windows 8 also has a long way to go in terms of overall system integration. When I wanted to add some Android APK files to SkyDrive, for example, I hit the app's upload button and navigated to the Downloads folder, where the files were located. But my Downloads folder is massive, and I knew finding the APKs was going to be a hassle.
At first I thought I'd search for them, but when selected the Search icon in the Charms Bar, Windows kicked me out of the file-picking dialog box and back into SkyDrive--exactly where my files weren't.
Next, I tried to search for the files from the Start screen, hoping to then use the Share charm to move my files into SkyDrive. That didn't work either. In the end, I had to scroll through my entire downloads folder to find the APKs I wanted--not a huge deal, but one of those little annoyances that can really waste time when you have to repeat the action several times during the day.
Can you live in Metro alone?
After spending a week in modern UI exile, I can conclusively say that you can survive without the traditional desktop. In fact, the modern UI is downright efficient once you get used to it, even with a mouse and a nontouch display.
Living a modern life isn't always easy, though.
Right now, today, the Windows Store simply doesn't have the apps you need to support a full-time workload. That means you'll need to rely on Web apps more often than not: For social networking, basic productivity, communications, read-it-later lists, IMDb, YouTube, and much more.
Which begs the question: Is living a Web-centric life in the premium-priced modern UI all that different from living life in the budget-priced Chrome OS?
On second thought, maybe that's a discussion for another day.
Previous Page 1 2 3 4