Le Vamp for iOS is the cutest endless running game ever
This polished endless runner game will keep you on your toes with different gestures, upgrades and power-ups, and excellent animation.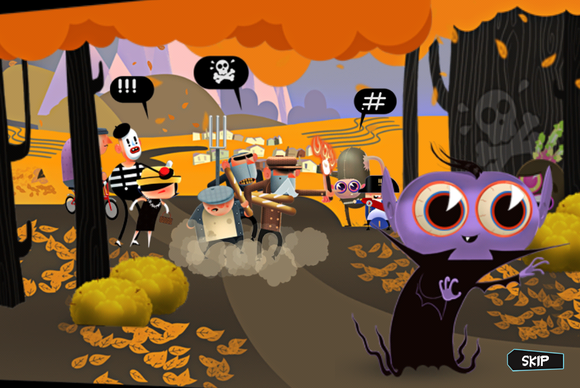 If I could rate a game based solely on how adorable it is, High Voltage Software's free Le Vamp for iOS would easily get five mice. Unfortunately, "adorableness" isn't really part of the criteria we use for rating games. But Le Vamp's cuteness is just icing on the cake: this endless side-scrolling runner is a great game, with a couple of twists to keep you playing for hours.
Here's the plot (because Le Vamp, unlike other casual runners, actually has one): Le Vamp is a restless French baby vampire who wants to go outside and play. Unfortunately, Parisians aren't known for their tolerance of the undead--even the super cute, mostly harmless undead. So poor little Le Vamp finds himself running through the forest, being chased by an angry mob of villagers wielding pitchforks and baguettes. (Apparently, Parisians aren't known for their ability to choose effective weapons, either.)
Le Vamp is a side-scrolling endless running game, similar to Jetpack Joyride. To play the game, you take on the roll of Le Vamp's phantom one-eyed butler, controlling the environment around him to ensure he has a smooth journey. This is a little different from other endless runners, in which you control the character's moves directly. Instead of dodging, jumping, and leaning, you cut trees to create bridges, fling blood pigs toward Le Vamp to keep him healthy and fed, and destroy enemies so he can pass through the forest unobstructed.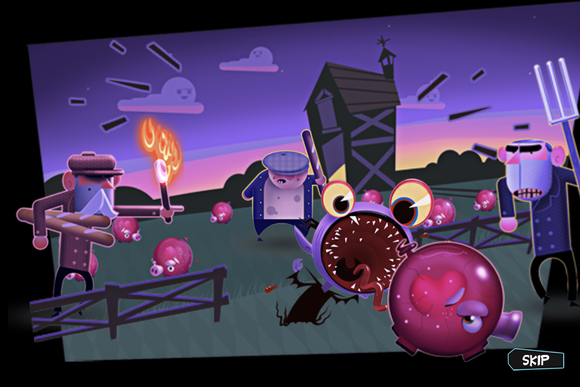 Keep Le Vamp happy and healthy by feeding him blood pigs.
There's a health meter at the top of the screen; each time Le Vamp stumbles or runs into an enemy, he loses one portion of that health meter, and the angry mob gets closer. You can replenish the health meter by feeding him "blood pigs:" cute, round, red pigs with hearts inside them. There are also coins to collect in the form of Francs, which have hot dogs emblazoned on them (pun totally intended). You can later trade in Francs for upgrades in the Crypt, which is Le Vamp's in-app upgrade store.
Le Vamp starts off fairly slowly to ease you into the gameplay. Each obstacle has a different motion, so it can get complicated very fast. For example, there's a potato called Spudzie that you have to pull up using an upward swiping motion. There's also a sausage called Le Wurst that you have to squash using a downward swiping motion. To cut down trees you have to swipe across, and to destroy a pumpkin pile you have to tap three times in succession. So, while the game starts off as relatively simple, you quickly find yourself tapping and swiping every which way to stay alive.