MultiPLX RSS reader offers powerful features and a few too many bugs
MultiPLX is a clean and powerful RSS reader that offers many unique features and is updated regularly with new ones. Its beta status makes is a bit of an adventure, but a worthwhile one.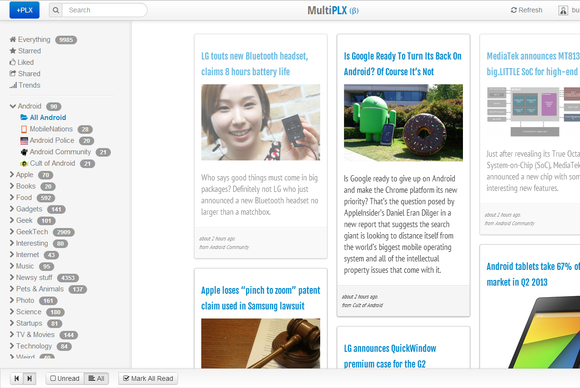 The RSS race is slowly calming down as we come to terms with the death of Google Reader. With big names such as AOL and Digg clambering for a spot in the news-reader scene, and with smaller readers popping up all over the place, you'd almost think there were no RSS readers available prior to Google's announcement. MultiPLX is an innovative take on the traditional reader that boasts quite a list of features, and it also happened to be around when we were all still in Google Reader's grasp.
With MultiPLX, you can start following a large lineup of websites without ever creating an account or signing in. Going to multiplx.com launches a watered-down version of the reader, full of dozens of feeds about business, food, science, sports, technology, travel, and more. This version does not support read and unread counts or starring and liking items, but does support MultiPLX's wide variety of sharing options.
Once you sign in, you get the benefit of the full list of features, and can also import your feeds from a different website using the import tool. The tool is not limited to only your feeds, though; MultiPLX lets you import your starred items, liked items, and shared items as well, using JSON files. You can also easily export all this data from MultiPLX to be used in a different service.
The reading experience itself is pretty straightforward. There are three layouts to choose from: card, list, and condensed list. Your feeds appear in the left sidebar or in a dropdown menu on the top navigation bar. Aside from your imported feeds, you can use MultiPLX's Discover feature to add predefined websites from dozens of categories. Another way to add feeds, at least in theory, it the +PLX bookmarklet, which I could not get to work on any of my browsers. The +PLX button is also available on MultiPLX itself, where is does work, at least most of the time.
Individual articles are displayed in either a lightbox or in fullscreen mode. You can navigate between these using keyboard shortcuts, or by clicking the Previous and Next buttons. MultiPLX supports sharing to a wide array of services, including Twitter, Facebook, Google+, Pinterest, Pocket, and Buffer, to name a few. You can also share items via email, and star them or like them--two features that have about the same functionality, but provide two distinct ways to save items for later.
There's no way to manage feeds and folders from the main page, but under the Manage Followed tab you can move feeds between folders, rename items, and remove them. The interface for this is not the most intuitive. I kept looking for a "Save" button, when in fact each feed has its own little save button in the form of a checkmark button. From here you can also add new folders and remove existing ones.