New Audis can now talk to traffic lights
Audi's "time-to-green" traffic light is only the first feature to leverage vehicle-to-infrastructure (V2I) and vehicle-to-vehicle (V2V) electronic communications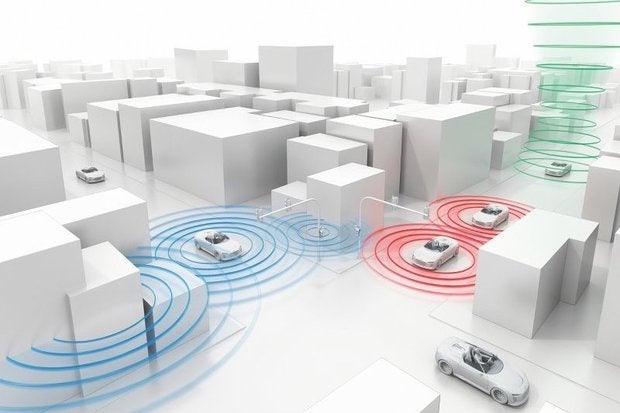 Audi has announced that select 2017 Audi A4, Q7 and allroad models (built after June 2016) will be able to communicate with Wi-Fi-enabled traffic lights that can inform drivers when red lights will turn green.
Traffic Light Information, an Audi connect PRIME feature, was first announced in August; the automaker demonstrated the technology at a Las Vegas launch event this week.
Audi's "time-to-green" traffic light feature is the first feature to leverage the Audi Traffic Light Information service, which is the first step in vehicle-to-infrastructure (V2I) and vehicle-to-vehicle (V2V) electronic communications for the automaker.
DOT
When approaching a connected traffic light, Traffic Light Information displays the time remaining until a signal changes to green in the driver instrument cluster, as well as the heads-up-display (if equipped). Audi said the service "helps reduce stress and allows the driver to relax knowing approximately how much time remains before the changing of the light."
V2I and V2V will eventually allow cars, motorcycles, trucks, buses and trains to "talk" to each other and to different parts of roadway infrastructure such as traffic signals, work zones, toll booths, and school zones. The exchange of information could make surface transportation safer, smarter and greener.
For example, roadway cameras, sensors and Wi-Fi-enabled vehicles will be able communicate traffic information in real time to other vehicles and alert drivers to accidents or traffic jams. Combined with autonomous driving technology, V2I and V2V will be able to manage traffic flow more efficiently.
The U.S. Department of Transportation (DOT) has been reviewing federal guidance for state and local agencies that will outline how they can best prepare their infrastructure for connected vehicles.
Anticipating the National Highway Traffic Safety Administration's connected vehicle mandate, automakers are busily preparing the hardware and software components of V2V systems. Cadillac will deploy connected vehicle technology on at least one model in late 2016, with an estimated production of 40,000 vehicles. Other automakers will likely follow suit in the next year or two, according to the DOT.
Federally-funded, "Connected Vehicle Pilot Deployment" sites include Ann Arbor, Mich., Columbus, Ohio, Tampa, Fla., New York City and a few others municipalities that are developing V2I applications. They're mainly expected to be used by fleets of cars that can be outfitted with dedicated short-range communications (DSRC) devices as part of the deployment.
"A number of traffic signals will be retrofitted to communicate with connected vehicles, but the total number of traffic signals cannot be determined at this time," the DOT said in an email response to Computerworld queries.
V2I applications could yield significant safety, mobility and environmental benefits well before all vehicles are connected, the DOT said. For example, Stop Sign Gap Assist—a V2I application that warns drivers when it is unsafe to proceed through a stop-sign controlled intersection—can prevent a two-car collision, even if only one driver is alerted to the danger.