Smart-battery maker Roost is developing a Wi-Fi water and freeze detector
The company behind the Roost Smart Battery for smoke detectors expands into another segment of the smart home.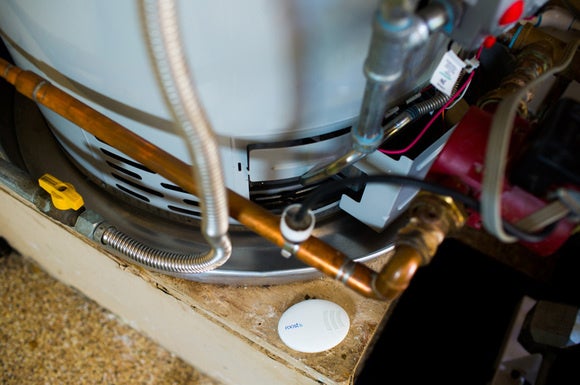 Roost
The Roost Water and Freeze Detector runs on battery power, making it easier to place in locations that might be far from an AC outlet, such as next to your water heater.
Henry said Roost doesn't currently have any plans to integrate its devices into broader smart-home systems, which is either good news or a missed opportunity, depending on your perspective. The good news is that you don't need to buy anything else for it to operate, and its reliance on battery power makes it easier to place—you won't find an AC outlet next to most water heaters, for instance. But not being able integrate it into a broader smart-home platform means you won't be able to have the sensor automatically adjust your thermostat to turn on your furnace if the temperature approaches freezing, or trigger a smart valve to shut off your water supply if a pipe bursts.
A competing product that does tie into smart-home systems, the $55 Fibaro Flood Sensor, hit the market earlier this month. It's also battery powered, but it must be connected to a Z-Wave-compatible controller, such as Samsung's SmartThings hub, in order to send messages to your smartphone. Fibaro recently sent us one of these units, so we'll post a review soon. As far as Roost goes, Henry said the company intends to provide the same level of IFTTT support for its water and freeze detector that it does today for its smart smoke alarm, so we'll explore that when we receive Roost's product for review.
IDG Insider