Sporting goods CIO hopes to hook customers with IoT, mobile apps
Orvis CIO Dave Finnegan is upgrading the company's point-of-sale system in preparation for customer experiences involving mobile and sensor technologies.
The walkthroughs made it clear that transactions could use a boost. The company's Aptos POS system, in place for several years, didn't support mobile and Web transactions. For example, if a customer couldn't find a product in-store, a sales associate would call it in to Orvis via phone to make a sale. But Aptos' new POS software, which Orvis began piloting at select stores in August, corrects that service hitch. If a customer comes in and finds two items in a store, but requests a third item that store does not have in stock, an associate can order the out-of-stock product online, and process payment for all three items via an iPad Mini, which is equipped with a credit card reader. The associate can also show the customer similar products they might be interested in from the iPad.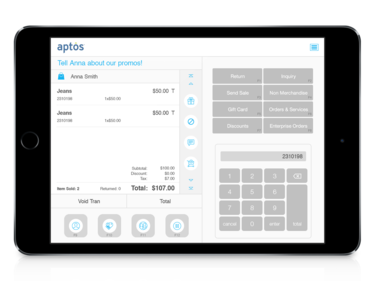 Orvis began piloting Aptos' new POS software select stores in August.
Stocking the 'endless aisle'
The system, which Finnegan calls an "endless aisle" tool, is already resonating with customers. One woman who came in looking for dog beds became discouraged by the store's lack of inventory. But a store associate came to the rescue, using an iPad to help the customer pick size, color and material of the dog beds she preferred. The woman then bought seven dog beds, which Orvis shipped to her home. This order-online in-store-mail-to-home approach is one of the tenets of Orvis' omnichannel strategy to ensure that its customers have the easiest path to products, and has resulted in a 20 percent sales increase in the eight stores that are testing it. The new POS also allows associates to see other stores' inventory and make the process for product returns and repairs more efficient, he says. "This is a massive step in the omnichannel direction for us," Finnegan says.
The POS system is foundational technology for Orvis' future, which Finnegan sees as one that leverages sensors and software to improve the customer experience. He envisions one day attaching sensors to Orvis fishing rods and reels, or even vests and other apparel, to better connect customers with the brand. A customer who has opted in via the company's mobile app, for example, might receive personalized content based on the products they purchased and where they are fishing. Think of it as a virtual stream guide, offering tips on flies to use and how to use them. Such a sensor and location-based mobile service might also track performance. "We think there's some really interesting future in personalization and customization," Finnegan says.
Finnegan is no stranger to using with sensors and software to bolster a business. In his prior role as CIO of Build-a-Bear, he developed a "store of the future" that included games and other interactive experiences using Microsoft Kinect sensors, as well as beacon technology. But don't expect Orvis to outfit its stores with an array of beacons, whose technology requires consumers to have Bluetooth wireless technology enabled on their smartphones. He doesn't believe the percentage of people who have turned on Bluetooth will make it worthwhile for Orvis.