Steadicam Smoothee makes your iPhone glide
Don't undermine the video capabilities of smartphones. Alone, it provides pretty solid footage but paired with the right equipment, it can really shine.
While the Smoothee is much smaller than any of Tiffen's other stabilization options, it's still going to take up a fair amount of space in your backpack or other carrying device. Its U-shaped arm may be great for balance, but becomes a bit of a pain when you're trying to fit it in with the rest of your gear. Plan how you're going to fit it into your equipment bag ahead of time, however, and you'll find it can be easily used on the go. Maybe not for every vacation, but certainly for the occasional trip, convention, or photo shoot.
The footage
Filming with the Smoothee is a lot of fun. The resulting footage can be pretty good, too--though it can suffer from your device's digital stabilization engine. The iPhone I shot with (the 4S) has automatic video stabilization built into the device, which can't be turned off. When you film quickly with the Smoothee, the stabilization appears to slow down the video, smoothing frames together, which can occasionally result in a jittery, bouncy look. (See some of the roller derby footage I captured in the video above for a great example of this.)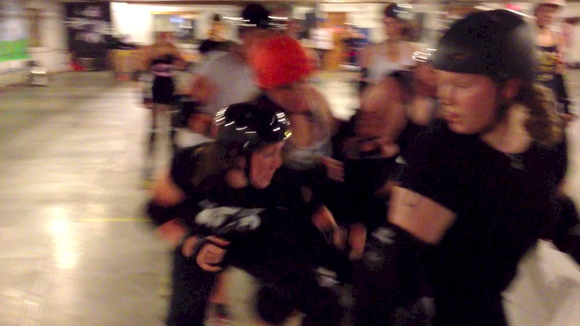 The iPhone 4S and 5 occasionally try to merge frames together when you're moving too fast, giving the footage a shifty, dreamlike quality.
You can largely avoid major digital stabilization goofs by panning and moving slowly, but it's still slightly annoying that your device can't trust the Smoothee enough that it will stabilize video the old-fashioned way.
The Steadicam unit also lets you get shots that are highly difficult to grab without a manual stabilization unit. Dolly shots (video taken while on a guided track) can be achieved by sticking someone with a Smoothee on roller skates or in a car. Running shots are much cleaner-looking than they would be if shot without stabilization. And 360 panoramas are incredibly amusing and delightful to do.
Bottom line
There are a couple different stabilization options on the market for mobile devices--including the ever-popular DIY method--but of the ones I've tried, the Smoothee is my favorite. It has the Steadicam brand behind it, and it shows.
The Smoothee isn't for every budding videographer out there. It's a specific tool designed for a specific purpose, and not everyone's going to need a stabilization unit for their vacation videos. But for aspiring filmmakers and video journalists, I think it's a great piece of equipment. It's small, affordable, and easy to set up, and you likely already have the camera equipment it goes with in your pocket.
Previous Page 1 2 3