TiVo Roamio review: A pretty good DVR with a silly name
Beep-boop! There's a new TiVo in town, and its name is Roamio. And it's pretty good.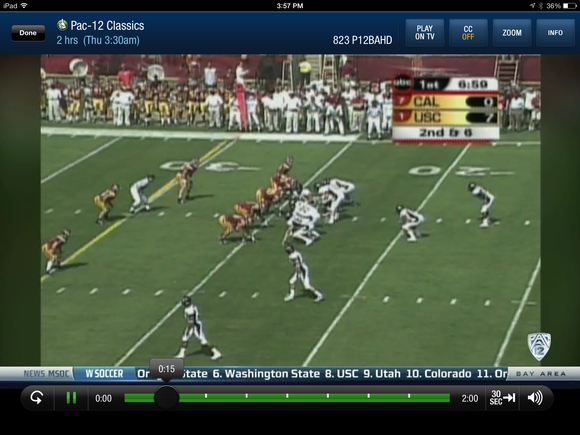 Streaming video to iOS devices is built right in to the high-end Roamio models.
I have never made a technology purchase that my wife has greeted with more skepticism than the original TiVo digital video recorder. It was 1999 and the idea of recording TV shows to a hard drive instead of a videotape seemed extravagant and pointless. Within a month she had come all the way around on the TiVo, and in the intervening 14 years roughly half of American television viewers have followed. DVRs these days come in all sorts of variations, mostly offered by your cable or satellite company, but TiVo's still offering a nicer alternative for cable subscribers who are willing to pay for the privilege.
It's been three years since the last major hardware update from TiVo, but in August the company announced and released three new DVRs. It was the first time in about six years that I've used a TiVo, having spent the intervening time using DirecTV's homegrown DVR instead. The experience was strangely familiar, but TiVo has come a long way in the intervening 14 years. This modern TiVo can record up to six shows at once, stream live TV and recordings to iOS devices, and play streaming Netflix, YouTube, Hulu Plus, and Amazon Instant video. It's the closest thing to the all-in-one television hub that has yet been invented.
Wherefore art thou, TiVo?
Before getting into the details, let's break down the basics of what these boxes are and how they work. There are three models of these new TiVos, which might have been called "Series 5" but instead have the unfortunate moniker of Roamio. (The previous generation was called Premiere. Maybe the 2016 model will be called Hamlet?)
The $200 Roamio is the base model and it's different from the other two models. It's physically smaller, for one, and it's got the smallest amount of onboard storage: 500GB (Tivo's estimate is 75 hours of HD video). Strangely, this low-end model is the only one of these with an off-air ATSC tuner, meaning that in addition to cable, you can plug in an antenna and record television freely over the public airwaves. It also lacks the built-in streaming features of the two more expensive models; a $130 TiVo Stream add-on box is required to enable those features. And it can record only four shows at once via a multistream CableCard (provided by your cable company).
The $400 Roamio Plus and $600 Roamio Pro are exactly the same as each other, other than the size of their internal hard drives. The Plus comes with a 1TB drive (up to 150 hours of HD), and the Pro with 3TB of storage (up to 450 hours of HD). Both models support only CableCard (they can't record over-the-air), but can can record up to six streams simultaneously. They've got the formerly separate Tivo Stream functionality built in; this means that users of the TiVo iOS app can stream video from these devices without the need for additional hardware. That same app can also download shows off the TiVo's hard drive for later viewing; you could pull off a couple of your favorite shows and watch them on an airplane, for example. (TiVo said that an Android version is on the horizon.)