Tweeki 2 brings the best of Twitter to Pokki
The new iteration of Pokki's Twitter client combines a mobile-like, minimalist interface with some interesting new features, bringing an exciting new contender to the world of Twitter clients.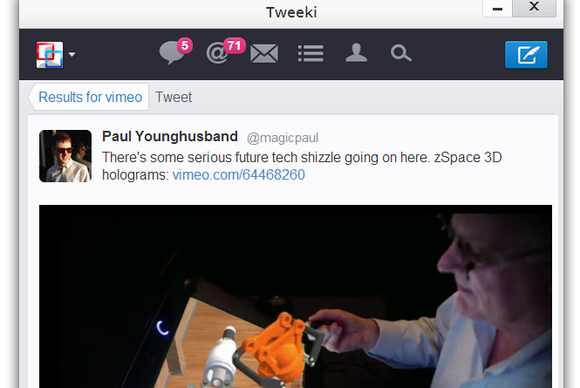 I'm always on the hunt for truly great Twitter clients for the PC desktop, and one of my finds from last year was Tweeki. Despite some drawbacks, I was impressed with Tweeki's mobile-like interface, and deemed it an excellent client for anyone with one Twitter user. Shortly after, Tweeki, which ran on the Pokki platform, shut down due to Twitter API changes, and has re-emerged as Tweeki 2, a whole new iteration of the Pokki Twitter app.
The change becomes apparent before you even log in. Tweeki 2 is based on a new partnership with Intel, which means you must create an Intel Services Identity before you can start using Tweeki. Once you do, you can use this single log in to bring up all your Twitter users on any PC, including unread counts for timeline, mentions, and DMs. This feature works surprisingly well, but it's important to note than when logged in on two PCs at once, actions you perform on one PC, such as switching between users, will also affect Tweeki on the other PC.
Once logged in, you'll become acquainted with the new Tweeki interface. In a strictly sized window (you cannot change the size), you'll find six different columns: timeline, mentions, DMs, lists, profile, and search. In addition, a compose button opens up a compose bar which you can hide when not using it, and another button on the left opens up the users and settings menu. For here you can add users, switch between users, sign out of the current user, and access the notification settings.
Just like the old version of Tweeki, here too you can choose between badge and banner notifications, but Tweeki 2 makes them available for lists as well. Speaking of notifications, these will only pop up or show for the user you're currently on, which makes it much easier to manage multiple accounts than the older version. General unread counts for all your accounts are available on the profile menu as well.
Things have changed in the reading front too. Whereas before your own tweets and mentions were marked in green and orange on your timeline, these are now highlighted by a color bar to the left of the tweet, and while they're somewhat less obvious, they're definitely colorblind friendly. Your own username, when mentioned, appears in a different color too. Images and videos are now available to view inline, providing a self contained and enjoyable reading environment.
The new compose window is much less obtrusive, and includes a spell checker to avoid those embarrassing typos. The first iteration of Tweeki had some problems with link shortening, and I'm sad to say that the situation is now worse. There is no built-in way to shorten links in Tweeki, and any links used stay in their long form, using up most of your character allowance. If you have an easily available way to shorten links this won't be a problem, but if you don't, this could turn the Tweeki experience into a pretty uncomfortable one.