Voyce, the sensor-packed wellness wearable for dogs, will ship in February for US$300
Better late than never, the long-overdue health and activity tracker promises to deliver canine wellness data that not even your vet can record.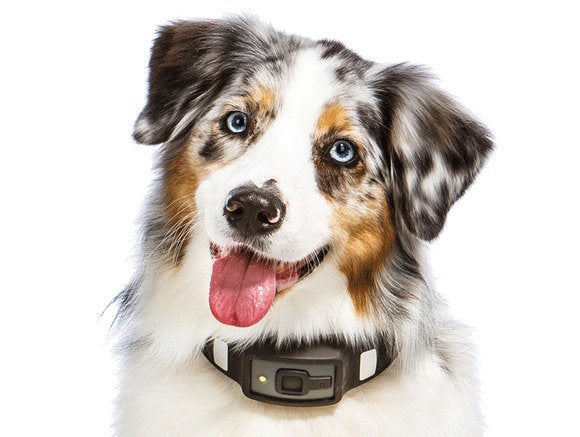 It's taken much longer to arrive than anyone expected, but the Voyce health and wellness monitor for dogs is finally about to ship. Voyce promises to reveal an unprecedented amount of data about your dog's activity levels and vital signs, and just might emerge as a wearable that people (and dogs!) actually use.
That would be great news for a wearables industry that's still plagued by significant user attrition rates. Indeed, studies show an alarming number of people toss aside their activity trackers and smartwatches after just a few months of use. But, hey, if nothing else, fashion aesthetics shouldn't be a concern with Voyce--unless your dog rocks herringbone like this.
When I first covered Voyce 11 months ago at CES, its manufacturer, i4C Innovations, estimated a spring 2014 release. The hardware has been delayed for platform development and regulatory reasons, but on Tuesday the Voyce team announced that pre-order invitations are going out to people who've already expressed interest in the collar. A limited number of Voyce bands will ship in February 2015, with this initial supply going to those who order first. The band costs $300 along with a $10 monthly fee for Voyce's ongoing subscription services.
Between now and December 31, interested doggie parents can sign up to receive invites for the second round of deliveries, which is scheduled for March 2015. The full consumer release will then kick in shortly thereafter--and it can't come soon enough. We gave Voyce our Best Wearable Tech award for CES 2014, and were alarmed when the band fell off the radar. There are already a number of canine wearables on the market, but Voyce will be the first to share heart rate and respiration levels, two data points that can reveal critical insights about the health of your dog.
Why this matters: Some 70 to 80 million dogs are living in the United States as pets. In fact, between 37 and 47 percent of all households include a canine companion, the ASPCA estimates. That's a huge population, but these family members can't directly communicate when they're feeling ill or suffering from slowly worsening chronic conditions. But thanks to a patented sensor that uses low-frequency radio signals to measure a dog's heart and breathing rates, Voyce can tell you whether your pup is under unusual stress.
In fact, Voyce can potentially provide insights that can't even be recorded at the veterinary office. When your dog is being probed and prodded at the clinic, his heart and breathing rates are already spiking beyond their baseline levels. Voyce, however, records these key vital signs when your dog is calm and at rest--and this is the data that's truly useful in identifying health problems. i4C Innovations says the Voyce collar's accuracy is comparable to that of a Televet, a vest-style holter monitor that only veterinarians have access to.