We put the HTC One's UltraPixels to the ultimate test
The new HTC One puts a lot of emphasis on its camera, but is it really much better than the competition?
Portrait (full sun)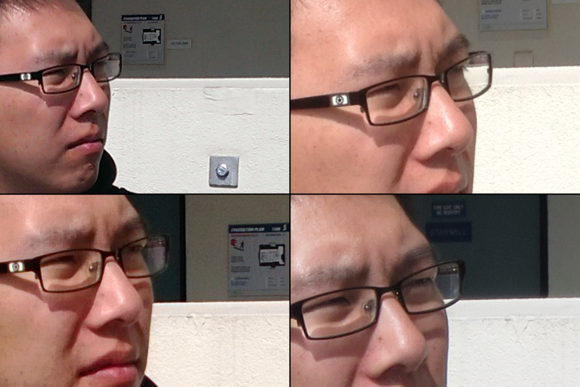 Clockwise (from the top left): HTC One, Apple iPhone 5, Canon Elph 520 HS, and Nokia Lumia 920
Small sensors love sunlight. The greater the amount of light available in your scene, the better your camera will perform. When you have a lot of light, your ISO can be extremely low (to reduce digital noise) and your shutter speed can be higher (to catch the action without any blurring).
Putting cameras to work in full sunlight evens the playing field: There's no reason why they shouldn't perform at their best under these conditions. The HTC One stood out in the full sunlight test--but in a bad way. Its image had the largest amount of digital noise and the least clarity. In addition, the One made our subject's skin look pinker than the competing cameras did. The iPhone 5 and Lumia 920 easily bested the One, and their shots matched each other in level of clarity, though the iPhone arguably handled the shadows and skin tones slightly better. The Canon PowerShot set the bar in this test, however, yielding the best full-sunlight portrait.
Bottom line
The HTC One's camera holds its own against the leading smartphone camera in most of our categories. Low-light photography, in particular, proved the validity of the HTC One's less-is-more pixel theory. But in conventional smartphone photography situations, the HTC One didn't do so well. The full-sunlight and cityscape tests, in particular, left us wondering whether the UltraPixels were an ultrabad idea.
As a photographer, I applaud HTC for emphasizing digital imaging in its new device, but the results aren't good enough to surpass the industry-standard cameras available on the Lumia 920 and the iPhone 5.
Don't count the HTC One out when it comes to mobile photography, but don't buy it just for the camera, either. Ultimately, the "ultra" marketing gimmick doesn't justify the device commitment, though you may decide to purchase the One on the strength of its other merits.
Previous Page 1 2 3