Which Apple devices to pack for your trip
Lex Friedman is heading to Ireland. He had to decide which of his Apple devices to pack for his travels, and which to leave at home. His thought process may help you decide what to bring on your next extended journey.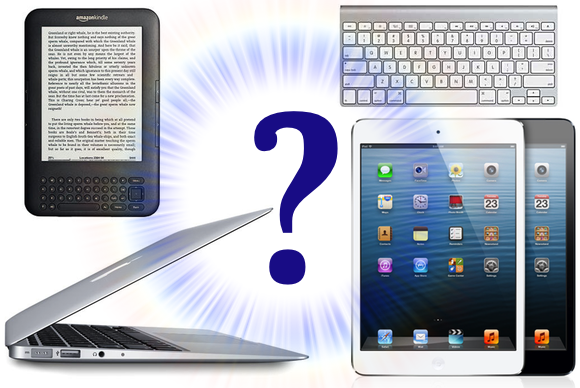 I don't know what to pack. I'm about to take a trip to Dublin, Ireland, and I have no idea whether to pack my MacBook Pro, my less-powerful-but-more-portable MacBook Air, or just an iPad. And if I opt for only an iPad, do I take my favorite one--the iPad mini--or do I choose the full-size model to take advantage the more extensive screen real estate?
Oh geez...if I take only an iPad, do I pack my Bluetooth keyboard, too? Because typing, especially on the iPad mini, isn't ideal. And if I do stow an iPad, should I leave the Kindle at home? (Okay, technically the Kindle isn't an Apple device, but it's a gadget I use daily and feel much affection for.)
Coming up for Air
Let's get one thing out of the way at the outset: This is the firstest of first-world problems.
It is not, however, a first-class problem: I will most decidedly be seated in the economy section of the plane on this trip, as I will on trips later this year to Australia and France. And that's a factor in my decision: The MacBook Pro is unwieldy when parked on a tray table in coach, especially if the unconscionable rube in front of me yields to the misanthropic temptation to recline his seatback from its full and upright position.
On the other hand, my MacBook Pro is my main axe, my go-to machine. Leaving it behind feels not quite like admitting defeat, but like resigning myself to an imperfect computing experience abroad. Nevertheless, I can't make a sufficiently compelling case to myself for bringing my heaviest Mac laptop with me on a jaunt across the globe.
That said, the globetrotting nature of my travel contributes to my thinking that maybe taking the MacBook Air could be useful, if for no other reason than to use it as the world's largest charging station for my iOS devices: My iPhone is coming with me no matter what, but I can't plug my charger directly into the Irish outlets. I have only one adapter, so I'm thinking that I could plug my MacBook Air in there, and then use the laptop's USB ports to charge my other devices.
Of course, if that were the only reason I wanted to take the MacBook Air, it would make sense to pack a powered USB hub instead. I could plug that piece of hardware into the adapter and leave the vestigial laptop at home.
Can I track with the lack of a Mac?
The key question I have to answer is: What would I use the laptop for? I'm speaking at a conference in Dublin, with a Keynote presentation I built on my Mac. I could make last-minute presentation tweaks as needed using Keynote on the iPad, if necessary, but the iPad would warn me about irreversible minor changes that might occur. And that's scary. If I go without a laptop, I'll need to consider my presentation finished before takeoff. I think I'm okay with that.