Why small screens won't cure Microsoft's Windows tablet blues
Small-screen Windows slates are poised to flood store shelves, but they aren't a magic pill for Microsoft's struggling tablet OS.
Carolina Milanesi, research VP of consumer devices at Gartner, says that a sub-$300 price is critical.
"I think 8-inch Windows RT tablets could be the right formula to appeal to consumers, but the price gap over Android cannot be too big," she told PCWorld via email. "$299 would be as high as I would go if I were the vendors, unless there were some clever bundles offered for tablets and smartphones."
Even at $300, Windows 8 tablets will have to offer genuine value to trump the $200 Nexus 7 and its ilk. How can it do that? One potential answer is to embrace the Windows 8 element that Microsoft seems most intent on forgetting.
Yes, I'm talking about the desktop.
Down on the desktop
That seemingly obvious answer carries some not-so-obvious caveats, however. While the energy-efficient features that Intel has been working into its chips—most notably its power-sipping Atom processors—make it technically possible to rock the Windows desktop in small-screen tablet form, would you really want to?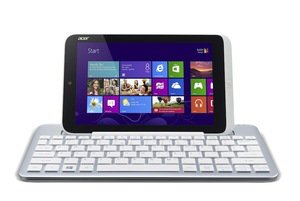 ACERThe misposting on Acer's Finnish website showed that the company plans to offer a keyboard accessory for its 8.1-inch Iconia W3.
"Windows participation in [the 7- to 8-inch tablet] space is interesting, but I only think the desktop plays a factor here if manufacturers make it easy to connect a mouse, keyboard, and large display to dock with," says Patrick Moorhead, founder and principal analyst at Moor Insights and Strategy. "The desktop on a 7- to 8-inch form factor is the makings of a horrible experience."
Remember how the first Asus Eee PC packed an itty-bitty 7-inch display? There's a reason why netbooks quickly shifted to 10- to 12-inch displays: Trying to use the traditional desktop on such a small screen utterly sucks. Seriously. It's wretched. The text is waaaaaay too tiny to be useful, and trying to click buttons or navigate menus accurately is a nightmare.
And that was with the Eee PC's 800-by-480 pixel resolution. Today's more pixelicious displays would only exacerbate the issue.
Windows 8 lets you scale the size of desktop text to create a more acceptable experience, but it has some hiccups. The trickery does make text more readable, but it tends to blur the visuals in non-Microsoft websites and programs. On the Surface Pro—which ships with its desktop text scaled to 150 percent by default—many menus and controls are still just a bit too tiny to be finger-friendly.
Shufflin' spreadsheets on the small screen
Microsoft may have yet another ace up its small-screen sleeve: Office.

Microsoft already offers a OneNote modern app, and its Office brethren may follow suit.
Previous Page 1 2 3 4 Next Page