Wi-Fi hard drive showdown: Corsair Voyager vs. Seagate Wireless Plus
A new class of portable hard drive creates its own Wi-Fi hotspot, so you can stream media or transfer files from a PC, notebook, tablet, or smartphone without a cable. Which one's best?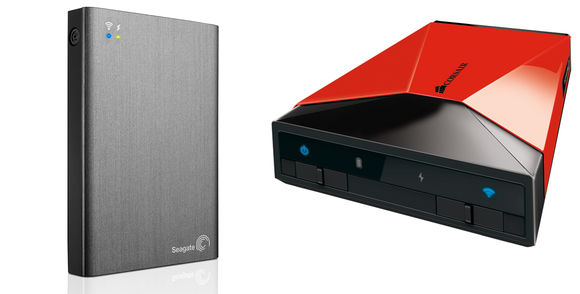 What could be better than a portable hard drive? A battery-powered portable hard drive that provides its own Wi-Fi hotspot, of course. Corsair's Voyager Air and Seagate's Wireless Plus command hefty price premiums compared to more ordinary drives, but they are also extremely convenient.
The usage models are as varied as your imagination: You can use them to wirelessly stream music and video around a small area, operate them as wireless NAS boxes, or provide business guests access to educational or entertainment materials on a grid that's completely isolated from your business network.
The two drives also vary in terms of performance, features, and price. Read on to find out which--if either--might suit your needs.
Corsair Voyager Air
In terms of connectivity options, the Voyager Air is as versatile as can be. It can create its own Wi-Fi hotspot, so you can transfer files over a wireless network, but it can also connect to a public hotspot and pass that Internet connection through to its own clients. Other wireless hard drives we've tested have required you to log out of their network in order to switch to an Internet hotspot. The Voyager Air is also outfitted with a USB 3.0 port, for direct connection to a PC, and a gigabit ethernet port, so you can use it as either a wired or wireless NAS. ((Internet pass-through does not work when a client is connected to the ethernet port.) I tested the $220 1TB model. Corsair also offers a 500GB model for $180.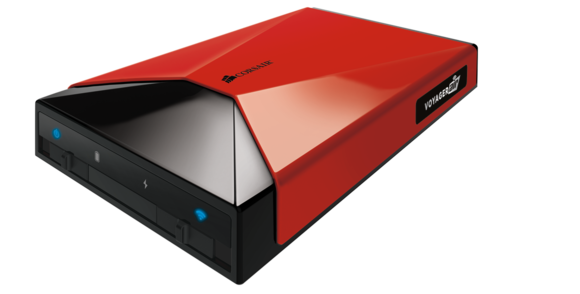 Corsair's Voyager Air is tops in connectivity, with ethernet, USB 3.0, and Wi-Fi capabilities.
On the downside, the Voyager Air currently lacks a Web portal for viewing media, and since it's not DLNA compliant, it's not the best mate for smart TVs, Blu-ray players, and other media-streaming devices that might be in your home-entertainment system. It works just fine with PCs, however, and there are Android and iOS apps available for relevant smartphones and tablets. Corsair has promised a firmware upgrade that will add a Web portal and DLNA compatibility, but it hasn't offered a timeframe. For now, you simply open, view, and play files as you would from any other external storage device.
The Voyager Air delivered very good performance via USB 3.0 in our benchmark tests, reading our 10GB mix of files and folders at 101.5 MBps and reading them at 210.5 MBps. It was slightly faster when working with a single 10GB, writing at 109.2 MBps and reading at 245.6 MBps. File transfers via gigabit ethernet, however, were surprisingly slow: It wrote the mix of small files at just 14.6MBps and read them at only 28 MBps. Scores for the single large file were 18.6 MBps while writing and 51.8MBps reading. The device delivered a smooth wireless streaming experience, with no detected dropouts or pauses at bit rates as high as 2 MBps.