Apple takes the slow road to wireless charging
Though Apple has finally included wireless charging in its latest iPhones, the Qi standard it chose is slower than the variation used in rival Android smartphones.
A Computerworld reporter with a new iPhone 8 purchased an Insignia wireless charger, capable of dispensing up to 15W of power. But the iPhone 8 will only receive 7.5 of those watts. The pad easily works through a thin iPhone silicon case, but it still requires the phone to be placed rather specifically in the center of the 3.75-in. diameter disk. If the phone is askew more than an inch or so, the charging stops.
Another explanation may be that Apple was concerned with heat. The Qi-specification is inductive, not resonant, charging – meaning it requires relatively tight coupling between a transmission and receiver coil.
Owners of the Apple Watch have probably noticed that after charging, their devices are warm, which is likely due to the nature of inductive charging.
Stofega said Apple could have been wary of the same kind of misfire Samsung experienced last year with its Galaxy Note 7, which had to be recalled because batteries were catching fire.
The Android Galaxy S8 uses a 11.55W/hr lithium-ion battery; the iPhone 8 uses a 6.96W/hr lithium ion battery, which is similar to what the iPhone 7 used.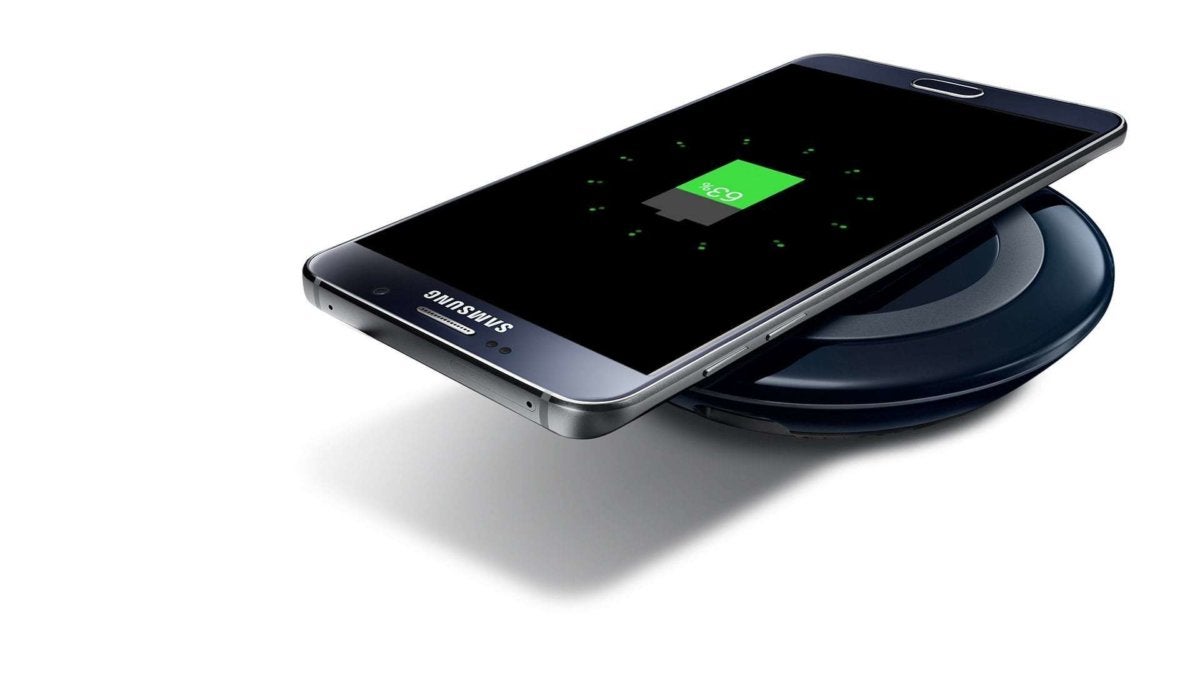 A Galaxy Note 5 on a wireless charging puck. Credit: Samsung
"I think that's [still] a pretty big battery and you'd think they'd want to crank up the charging rate, but there's a downside to that where you may get a runaway event," Stofega said. "And, that's the last thing that want on their premium device – a picture of a burned-up iPhone."
Samsung first introduced Qi-based wireless charging with the Galaxy Note 5.
With the Galaxy Note 7, Samsung introduced Qualcomm's Fast Wireless Charging, which enabled 10W of power transfer – 1.4x faster than standard wireless charging transmitters – and recharged the phone 50 minutes faster than previous models. At that rate, the phone can go from no charge to fully charged in 2.5 to 3 hours.
The Fast Wireless Charging feature is backward compatible with Galaxy Note5, Galaxy S6 edge+ and later models.
Fast Wireless Charging is based on version 1.2 of the Qi specification, which was announced in 2014 and enabled power transfers up to 1.2-in away from the coil (30mm) and a charging capacity of up to 15W.
More than two dozen companies make wireless charging transmitters, receivers and charging pads that support 15W fast charging, from Belkin and Toshiba to LG and Zens.
Apple may eventually upgrade to magnetic resonance technology, which would allow charging over greater distances; that, in turn, would allow chargers to be under-mounted on desktops.