Apple takes the slow road to wireless charging
Though Apple has finally included wireless charging in its latest iPhones, the Qi standard it chose is slower than the variation used in rival Android smartphones.
"They have hinted at that," Stofega said.
In July, Dell released a Latitude laptop that incorporated resonant wireless charging from WiTricity, a Watertown, Mass.-based company that licenses its technology – originally garnered from M.I.T.
The Dell wireless charging technology offers up to 30W of charging power, so a Latitude laptop will charge at the same rate as it would if it were plugged into a wall outlet.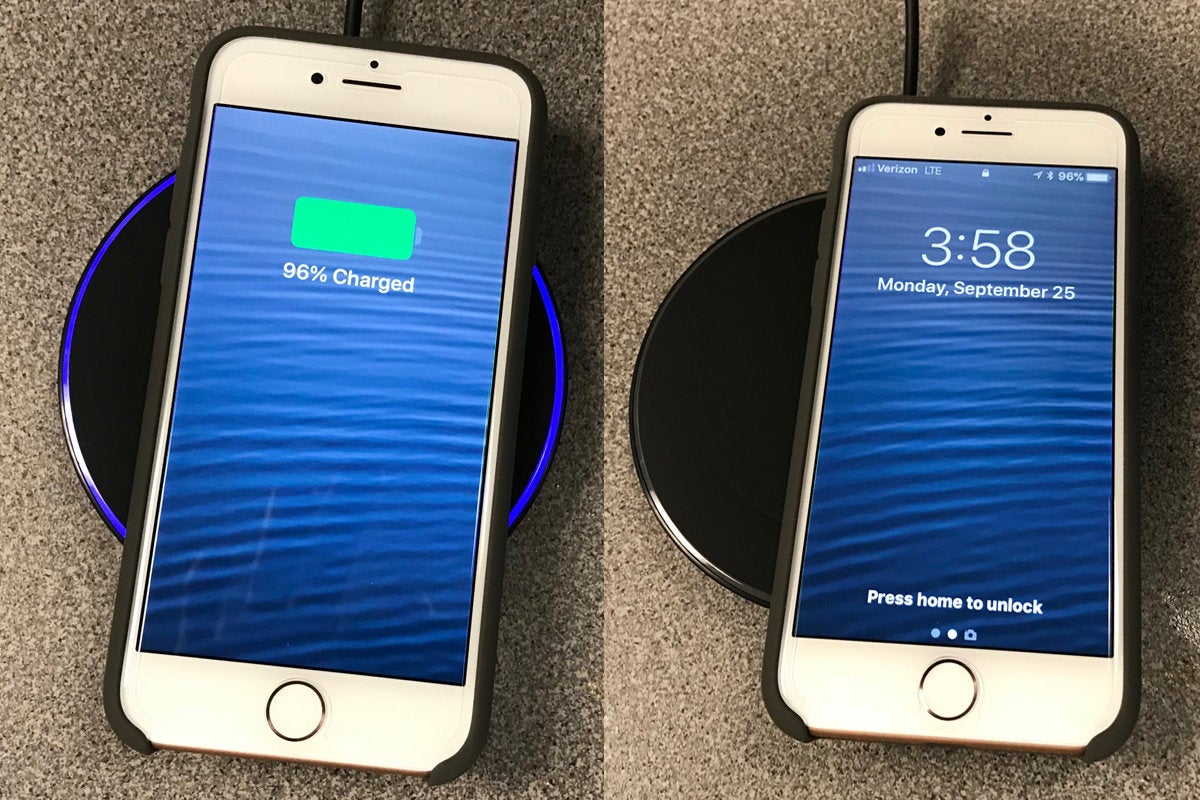 On the left, a more centered iPhone 8 recieves power from an illuminated wireless charging pad. On the right, a slightly askew iPhone 8 cannot connect to the wireless charger. Credit: Lucas Mearian/Computerworld
WiTricity's bailiwick is the automobile industry. Over the next several months, you can expect to see electric car manufacturers announcing wireless charging for their vehicles, according to WiTricity CEO Alex Gruzen.
The magnetic resonance technology allows power to transfer at up to 25 centimeters away from a charging pad.
"The design is built around one common charger on the ground that can cover a sports car, a sedan or an SUV," Gruzen said.
Apple's decision to finally add wireless charging to its iPhone line will bring more attention to the technology and the fact that it's becoming more ubiquitous, Gruzen said. Still, Apple was slow to embrace a technology that's been around "for a while," Gruzen said.
"I've always felt when you introduce a technology, you want to get rid of the 'Yeah, but' factor," Gruzen said.
For example, Gruzen pointed that Qi-enabled chargers require relatively precise placement of mobile devices before they'll start charging. He also said some Qi-enabled Samsung smartphones with wireless charging have experienced trouble working through heavier phone cases.
"Apple chose Qi and there's an infrastructure to support that to some extent, but the market has also voiced frustration...with it," Gruzen said.
Previous Page 1 2 3