Beddit tracks sleep without the wearable
Sleep tracking isn't for everyone, but if you seek insight into your nightly restlessness, Beddit's US$150 Smart Sleep Monitor is worth a look — and it doesn't require a wearable.
We all know how important sleep is, and we know we probably don't get enough of it, especially during hectic workweeks. So do you really need a sleep tracking device to tell you what you already know?
That's the question the makers of devices such as the Beddit Smart Sleep Monitor ($149) must answer if they want consumers to buy their trackers. I've used several different devices to track sleep, including Beddit. If you have chronic sleep issues and want to quantify your nocturnal tossing-and-turnings, or perhaps share the data with a doctor and better understand how poorly or how well you sleep, then yes, tracking sleep is a good idea.
Beddit needs no wearable
Beddit is worth consideration because unlike, say, a Fitbit or Jawbone device, you don't have to wear anything to bed to track your sleep. Beddit is a long sensor strip with adhesive that keeps it in place on top of your mattress but beneath the fitted mattress sheet. It's barely noticeable when you sleep on top of it. The strip plugs into a wall socket for power, and it connects to your Android or iOS device via Bluetooth.
Beddit auto tracking
Beddit's Smart Sleep Monitor automatically tracks your sleep; there are no buttons to push on a wearable or in a companion smartphone app to start the process. The fewer things you have to do to manage your sleep tracking before bed, the better.
When you wake, you see a sleep score between 0 and 100 in the Beddit app.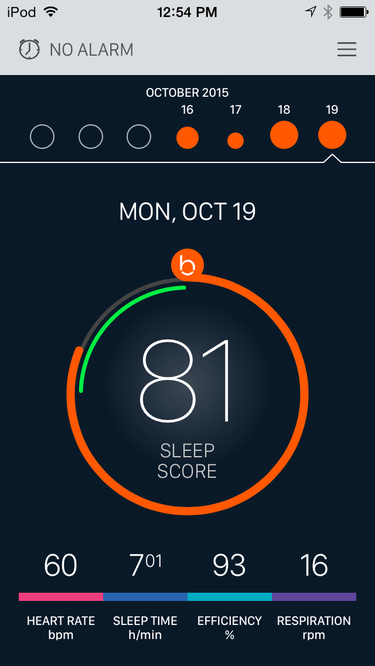 The score takes a number of factors into account, including:
If you took a long time to fall asleep and if so, how long;
Your resting average heart rate, as well as its lowest and highest points;
If you snored and if so, for how long;
Your sleep efficiency (the portion of time in bed you spent actually sleeping);
How many times you got out of bed and for how long;
How many times you were awake and for how long;
Total sleep time.
During my tests, I had two restless nights, and Beddit confirmed this with sleep scores of 61 and 71. (My best score so far has been 81.)
Beddit's (mostly) obvious insights
The Beddit app provides tips and contextual insight to help make sense of the data, but some are too obvious to be useful: "Choose a mattress that supports your body and isn't too soft or too hard," for example.
During one of my tests, Beddit didn't accurately capture all my time asleep in bed. On one of those restless nights, Beddit said I was out of bed for a total of three hours and 42 minutes, with a big gap in my sleep chart between about 1:30 a.m. and 4 a.m. If I didn't know better, I might assume I spent those hours sleepwalking through the streets of San Francisco. My Fitbit app, in comparison, says I was only up for about 31 minutes that night. (I wore a Fitbit Charge HR to sleep every night to compare its data to Beddit's.)