Breaking Moore's Law: How chipmakers are pushing PCs to blistering new levels
Processor performance increases may have flatlined over the past few years, but the biggest brains in the biz are working on cutting-edge tech to push PCs to blistering new speeds.
Without getting too geeky, the company started by swapping out the transistors' standard silicon dioxide insulators in favor of more efficient "high-k metal-gate" insulators during its shift to the 45nm manufacturing process. It sounds simple, but it was actually a big deal. That was followed by an even more monumental change, with the introduction of "tri-gate" or "3D" transistor technology in Intel's current Ivy Bridge chips.
Traditional "planar" transistors have a pair of "gates" on either side of the channels that carry electrons. Tri-gate transistors shattered that two-dimensional thinking with the addition of a third gate over the channel, connecting the two side gates. The design improves efficiency by reducing leakage while lowering power needs. Again, it sounds simple, but manufacturing three-dimensional transistors requires immense technical precision. At the moment, Intel is the only chip maker shipping processors with 3D transistors.
So what's next for Intel? The company isn't telling. In fact, Mulloy says that any technology the company might use--like, say, the next-gen extreme ultraviolet lithography fabrication process--goes into a PR "black hole" years before Intel introduces it in its chips. But, he stressed, the past improvements discussed above don't just stop when they're introduced to the public.
"People tend to think 'Intel used this, now they're on to the next thing,'" Mulloy said. "Strained silicon did not go away when we added the capabilities of high-k metal gate. High-k metal gate didn't go away when we went to tri-gate transistors--we're still building and improving on that. We're at the fourth generation of strained silicon, the third generation of high-k metal gate, and our upcoming 14nm chips will be the second generation of tri-gate."
The best chip technology out there just keeps getting better, in other words.
Oh, and for what it's worth, Intel thinks Moore's Law will continue unabated for at least two more transistor-shrink generations.
AMD: Parallel computing all the way
Intel isn't the only chip maker in town, though. Rather than betting purely on improvements to transistor technology, rival AMD thinks the future of performance hinges on cutting CPUs some slack by shifting some of the workload to other processors that might be better suited for particular tasks. Graphics processors, for example, smoke through tasks that require a multitude of simultaneous calculations, such as password cracking, Bitcoin mining, and many scientific uses.
Ever heard of parallel computing? That's what we're talking about.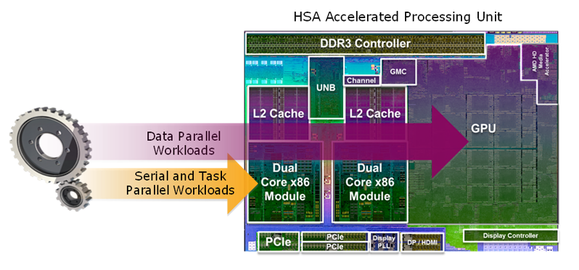 The design of an AMD APU build to HSA standards.
"Going into smaller nodes on the transistor side increases [CPU] performance by 6 to 8 to maybe 10 percent, year to year," says Sasa Marinkovic, a senior technology marketing manufacturer at AMD. "But adding a GPU with GPU compute capabilities gives much larger gains. For example, for Internet Explorer 8 to IE9 the performance increase was 400 percent--four times the performance of the previous generation, and it's all thanks to [IE9's] GPU acceleration."
Previous Page 1 2 3 4 5 Next Page